My Name Is Nobody (Il mio nome è Nessuno)
(1973)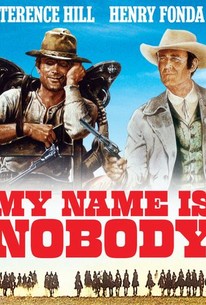 My Name Is Nobody (Il mio nome è Nessuno) Photos
Movie Info
A soldier of fortune, Nobody is hired to gun down veteran outlaw Jack Beauregard. Before long, however, Nobody and Beauregard are bosom companions. When Beauregard announces his retirement, Nobody insists that the old man go out in one last, glorious shooting spree and tries to arrange for this to happen.
Critic Reviews for My Name Is Nobody (Il mio nome è Nessuno)
Audience Reviews for My Name Is Nobody (Il mio nome è Nessuno)
Weird Western Comedy with Italian star Terence Hill teaming up with American star Henry Fonda. This unlikely pair exchange their own wisdom. The dialogue and action is very well done. The musical score is a real joy to hear. The Sergio Leone direction and cinematography is not to be missed. Don't expect anything serious though, "Nobody" (played by Terence Hill) is the clown of the Spaghetti West, who will take the baddies by surprise and teach them a thing or two about good manners. Hilarious. I loved it.
Lafe Fredbjornson
Super Reviewer
½
Well accomplished Western comedy, My Name is Nobody is a fine parody of the Spaghetti Western genre of film that was made famous by Executive producer Sergio Leone. This is an enjoyable film that will surely please genre fans, and with a great cast at hand, director Tonino Valerii crafts a terrific film that is among the best Western comedies ever filmed. Although it lacks in some areas, there's more than plenty of good things going on, on screen to make this worth seeing. Along with Blazing Saddles, this is the best comedy in this genre of film and it's very entertaining from start to finish. This is a fun film in the genre, and it is entertaining from start to finish because of such a great cast of talented actors and there are also plenty of effective gags to make this one memorable, amusing film to watch. If you loved all the classic 1960's Westerns films, well you're sure going to like this one. This film along with Blazing Saddles are the best films in this subgenre of the Western, and each brings something unique to the screen. As a whole, this is a flawed film, but works well enough to make it enjoyable from start to finish. This is among the last great Spaghetti Westerns and it's a fine satire of Westerns of the 60's. With a great cast that deliver on-screen, this is a must see picture for fans of the genre. This is a memorable silly ride from start to finish and is also one of the defining classics of the genre. A fun, entertaining ride that should please fans of cinema as much as genre fans. Simply put, My Name is Nobody is a memorable comedy worth watching.
Not as high on my list of favorites as it used to be. Tonino Valerii's tongue-in-cheek Spaghetti-Western has taken a beating at the hands of father time, though the homage to Sergio Leone and Sam Peckinpah is still undeniably apparent.
Randy Tippy
Super Reviewer
My Name Is Nobody (Il mio nome è Nessuno) Quotes
There are no approved quotes yet for this movie.