My Neighbor Totoro
(1988)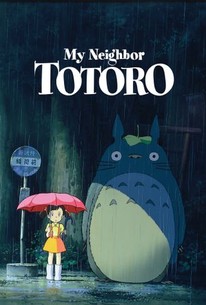 My Neighbor Totoro Videos
My Neighbor Totoro Photos
Movie Info
This superbly animated children's tale is directed by Hayao Miyazaki, one of Japan's most beloved animators. The story follows Satsuke and Mei, two young girls who find that their new country home is in a mystical forest inhabited by a menagerie of mystical creatures called Totoros. They befriend O Totoro, the biggest and eldest Totoro, who is also the king of the forest. As their girls' mother lies sick in the hospital, O Totoro brings the sisters on a magical adventure but also helps them to understand the realities of life. Like most films released by Miyazaki's Studio Ghibli, this family-oriented feature has a powerful ecological theme. The English-language version of this film wasn't dubbed until many years later, explaining the presence of actors such as Dakota Fanning in the cast (who wasn't even born until 1994). ~ Jonathan E. Laxamana, Rovi
Critic Reviews for My Neighbor Totoro
Audience Reviews for My Neighbor Totoro
½
The film that launched legendary animation director Hayao Miyazaki on the road to success and there's a reason why: it is simply a delightful masterpiece that demonstrates Miyazaki at his absolute best. In terms of plot this flick can be summed up in a single sentence (Two innocent little girls move into a rural town where they encounter the lovable forest spirit: Totoro) and there are zero conflicts or villains to speak of. This sounds off-putting at first but upon watching; the simplicity of the plot is what contributes to Totoro's charm. Instead of focusing on plot, the film follows the various life situations faced by the film's adorable and lifelike little girls in the form of Satsuki and Mei. Most of the situations involve the two sisters settling down into their new homes and meeting their neighbors (both human and spirit). Sometimes the film is funny, sometimes it's scary, sometimes it's wondrous, and quite sad a few times but it all is held together by how it stays true to the essence of life in general. Kazuo Oga's beautiful background art gives great nuance to the forest settings and emits a warm nostalgic feel of nature's beauty. Even though some zany fantasy elements persist in the film (one highlight is the crazy but awesome cat-bus), the film never loses its sense of realism or emotional center. The big, silent, and playful Totoro is immediately endearing and it is very clear how he became the Winnie the Pooh of Japan. The animation is absolutely exquisite and the music is simply wonderful. Sure to leave a smile and warm fuzzy feeling in anybody (If it didn't then you have no soul).
Christopher Heim
Super Reviewer
½
No plot and a little slow, but super cute and fun.
Letitia Lew
Super Reviewer
½
An enchanting movie for children, so beautiful in its wonderful simplicity, innocence and sweetness that it feels like almost impossible not to be touched by such an adorable story devoid of clichés and with no need to rely on villains or contrived conflicts.
Carlos Magalhães
Super Reviewer
My Neighbor Totoro Quotes