My Own Private Idaho
(1991)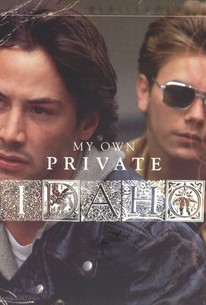 TOMATOMETER
AUDIENCE SCORE
Critic Consensus: A tantalizing glimpse of a talented director and his stars all at the top of their respective games, Gus Van Sant's loose reworking of Henry IV is smart, sad and audacious.
My Own Private Idaho Photos
Movie Info
Gus Van Sant's dreamtime riff on Shakespeare's "Henry IV, Parts I and II" features River Phoenix as Mike Waters, a narcoleptic male hustler who is first seen drifting on a stretch of highway in Idaho. Mike shifts from Seattle to Portland, where he has taken up with Scott Favor (Keanu Reeves), who is also a hustler. The difference between them is Mike's sleepy state betrays an uncertain future, while Scott is ready to inherit a fortune from his father within a week. Mike feels a real affection for Scott, but Scott does not believe men can really love each other. Besides, Scott is mostly hustling as a means of slumming and killing time before he inherits his money. Mike, however, delusionally thinks Scott will continue with his life as a drifter after receiving his inheritance. Mike's belief is shared by the dregs of Portland, who live out of an abandoned hotel with their spiritual leader Bob (film director William Richert). They're convinced Scott's fortune will benefit them all, when in reality Scott has other plans.
Critic Reviews for My Own Private Idaho
Audience Reviews for My Own Private Idaho
½
Once in a while, I do enjoy Gus Van Sant, who, for me, is a lot like Steven Soderbergh: really versatile, talented, and definitely important. This movie has been on my list of films to see since I first wrote it over five years ago. Yes, I'm serious. I'm not sure why it took me so long to finally see it, but I'm glad I finally did. Allegedly this is supposed to be loosely based on the Shakespeare works Henry IV Parts I and II and Henry V, but I didn't really see that. Of course, it would probably help if I was actually familiar with those works, but still. Okay, so sometimes the dialogue does come off as somewhat Shakespearean because of the delivery, but I really don't see the whole thing of translating historical dramas into a dream-like road movie about two hustlers. We mostly follow Mike Waters, a sensitive young street hustler with narcolepsy. He works the streets of Portland and Seattle, but longs to find his mother who abandoned him at a young age. His search leads him to all kinds of places, namely Idaho (where he's originally from), but overseas as well. Joining him on his quest for "home" is Scott Favor the unrequited love interest. Scott, like Mike, is a hustler, but he's from a more well-to-do background. In fact, he's the wayward son of Portland's mayor. He says he'll eventually straighten up and do as his father wishes, but for the time being, he's happy being on the mean streets with all kinds of colorful characters. The film was a rather big deal when it came out, and I can see why. It sheds light on an interesting subculture, it's got some mostly strong direction, great visuals, it continued Van Sant's wave of success, and featured some terrific performances from River Phoenix as Mike and, yes, shockingly enough, Keanu Reeves as Scott. I don't know what happened to him that caused him to be how he is now, but yeah, back in the day, he was actually a credible and legitimately good performer. Other performers are good too, but these guys are the real highlight. Even though this is a good movie, and I can see why it has a very positive reputation, it's not perfect. It's merely good, instead of great, hasn't really aged that well, doesn't seem that fresh anymore, and has a tendency to meander a little too much a little too often. It does provide a nice and sensible look at Gen X hustlers, but even then it comes off as a tad pretentious here and there. Despite my gripes, I do like this, I'm glad I finally saw it, and think you should check it out if you enjoy the offbeat, or want to really get into the career of Van Sant.
Chris Weber
Super Reviewer
A strong beginning that becomes a bit cryptic towards the end, My Own Private Idaho is a respectable piece of film and is pure Van Sant. The poetic dialogue in some scenes mixed in with River Phoenix's narcolepsy brings a story that develops unusual characters and a excellent adventure.
Gus Van Sant's My Own Private Idaho is less a film about the physical and more about the spiritual. Loosely based on Shakespeare, it's a beautifully-shot independent film with something to say. I can't really admit that I liked the film all that much. It takes a while to get going and there are long pauses where it seems like nothing's happening, but as an art film (which is what I consider it to be), it works very well. Both River Phoenix and Keanu Reeves give great performances amidst the backdrop of street hustling, the open road, Italy and the Idaho countryside. It's probably not a film for everybody, but the general consensus is that it's very well-received by most people, so it may be a bit broader than I would expect it to be. Although I have to say, I think a lot of that has to do with the sex appeal of its two young actors. Perhaps that's just me, but I'm sure it has something to do with it. It's a good film, but not one I'd watch over and over again.
Tim Salmons
Super Reviewer
My Own Private Idaho Quotes
| | |
| --- | --- |
| Scott Favor: | I only have sex with a guy for money. |
| Mike Waters: | Yeah, I know. |
| Scott Favor: | And two guys can't love each other. |
| Mike Waters: | Yeah. |
| Mike Waters: | Well, I don't know. I mean... I mean, for me, I could love someone even if I, you know, wasn't paid for it... I love you, and... you don't pay me. |
| Scott Favor: | Mike... |
| Mike Waters: | I really wanna kiss you, man... Well goodnight, man... I love you though... You know that... I do love you. |
| | |
| --- | --- |
| Mike Waters: | I love you, and you don't pay me. |
| | |
| --- | --- |
| Mike Waters: | I've been tasting roads all my life. This road will never end. It probably goes all around the world. |
| | |
| --- | --- |
| Mike Waters: | This road has no end. It probably goes all the way round the world. |