My Super Ex-Girlfriend
(2006)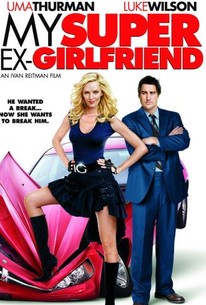 TOMATOMETER
AUDIENCE SCORE
Critic Consensus: My Super Ex=Girlfriend is an only sporadically amusing spoof on the superhero genre that misses the mark with a nerd-turned-superwoman who embodies sexist clichés.
My Super Ex-Girlfriend Photos
Movie Info
A regular guy finds out just how hard breaking up can truly be when attempting to call it quits with a clingy female crime fighter who doesn't want to let love die in director Ivan Reitman's super-powered romantic comedy. Matt Saunders (Luke Wilson) was looking for love when he first met pretty brunette Jenny Johnson (Uma Thurman), and at the time it seemed as if he may had finally actually found it. Jenny isn't just your typical girl, though, because despite her outwardly normal appearance she is actually a powerful superhero dedicated to ridding the streets of crime. Her outward strength betrays a deep-rooted insecurity, too, and when Jenny begins to become a bit too possessive for Matt's laid-back taste, the troubled boyfriend does his best to end the relationship amicably. They say that breaking up isn't easy to do, however, and when your girlfriend is a superhero, that sentiment holds twice the truth as it does under any normal circumstances. Matt is determined to get on with his life, though, and as his budding romance with beautiful co-worker Hannah (Anna Faris) begins to get serious, jealous Jenny scornfully slips into G-Girl mode to prove that hell hath no fury like a woman superhero scorned.
News & Interviews for My Super Ex-Girlfriend
Critic Reviews for My Super Ex-Girlfriend
Audience Reviews for My Super Ex-Girlfriend
½
A wee bit of fun, a guilty pleasure, reversing the traditional superhero dynamic: what if a woman had the superpowers? In this film, played for yuck-yuck-yuck-yuck-yucks, naturally she' d have to be, er, you know, a little, er, difficult, yah? So what if its a one joke premise? The ensemble has some fun with it, with Luke Wilson as Lois Lane, Rainn Wilson as Jimmy Olsen, and Eddie Izzard as Lex Luthor. And of course, me always liking some Uma Thurman and Anna Faris. Its better than it sounds.
Kevin M. Williams
Super Reviewer
Welll this certanly stinks. It's just not okay. Nothing bad agains Luke or Uma. They're both allright. But who can perform under these conditions?
Martin Sahlin
Super Reviewer
Inexplicably, I love this movie.
Jason Robinson
Super Reviewer
My Super Ex-Girlfriend Quotes
There are no approved quotes yet for this movie.