My Super Psycho Sweet 16
(2005)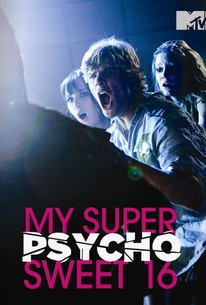 AUDIENCE SCORE
Critic Consensus: No consensus yet.
My Super Psycho Sweet 16 Photos
Movie Info
A pampered teen convinces her wealthy father to renovate a dilapidated roller rink for her sweet 16 bash, only to have the party crashed by the serial killer who haunted their town ten years earlier. Madison Penrose (Julianna Guill) is pretty, popular, and partial to getting what she wants. With her 16th birthday fast approaching, Madison pleads with her father to stage the soirée at a run-down roller rink that was once home to notorious serial killer Charlie Rotter (Alex Van). It's been a decade since Charlie donned a mask and began systematically slaughtering the local teens, and his killing spree came to an abrupt end when his five-year-old daughter, Skye, caught him in the act and called the police. When the vehicle that was transporting Rotter to prison was decimated in a fiery crash, the locals thought they had seen the last of the psychotic, so-called the "Lord of the Rink." Today, 15-year-old Skye is a strong-willed misfit who has recently attracted the attention of Madison's hunky ex-boyfriend, Brigg, a star athlete at their high school and the object of every female student's affections. Jealous, Madison encourages her friends to humiliate the unassuming Skye, who plots revenge by crashing the well-publicized party with her geeky guy pal Derek. Later, at the party, all hell breaks loose when Rotter makes his presence known by using a severed head as a cake topper, and Madison must team with Skye, Derek, and Brigg to rid their town of the resilient maniac once and for all.
Critic Reviews for My Super Psycho Sweet 16
Audience Reviews for My Super Psycho Sweet 16
½
"My Super Psycho Sweet 16" really isn't that scary or suspenseful and has a more satire horror-comedy feel. While not horribly violent and gory, the film features some good kills and one good gore scene but at the end it a slasher with borderline result.
dude. bro. this. is an almost incomprehensible movie-long episode of super sweet 16. it has: no story. no acting. no seriously the kids are really this evil. i honestly thought i was watching an episode of the show til someone got their face cut off and im like-- wha? 3 years in and i finally fot to see one of the brats murdered! but then i started laughing uncontrollably and i realized no real-life evil hellspawn pre-muenstrating horrible soulless creature could possibly be this clever! and then it hit me: the realistic dialogue. the teenage girls accepting each other for who they are. the ethnically diverse groups of friends. THIS IS THE FUNNIEST HORROR FILM EVER MADE. also every (EVERY) time someone is killed they use the same exact slo-mo shot of the kids rollerskating in a circle. oh god movies can only get worse from here.
Coxxie Mild Sauce
Super Reviewer
My Super Psycho Sweet 16 Quotes
There are no approved quotes yet for this movie.