My Super Psycho Sweet 16: Part 2
(2010)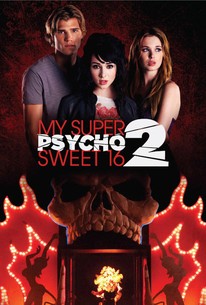 AUDIENCE SCORE
Critic Consensus: No consensus yet.
My Super Psycho Sweet 16: Part 2 Photos
Movie Info
You're invited to the year's most killer party - MTV's My Super Psycho Sweet 16 Part 2! Skye's story continues as she travels in search of her mother in hopes of a fresh start. But when she meets her half-sister Alex she has to contend with a new bunch of rich kids and learns that her past - and her father - cannot be outrun. Tune in October 22nd at 10pm on MTV. For info visit: http://www.facebook.com/msps16
Critic Reviews for My Super Psycho Sweet 16: Part 2
All Critics (2) | Fresh (1) | Rotten (1)
If a third installment makes for as watchable a thriller as this superior sequel, I am more than willing to accept another invitation to this party.
Audience Reviews for My Super Psycho Sweet 16: Part 2
The movie follows right after the massacre of the previous film with Skye going to her mother who apparently abandoned her as a kid. Her mother decides she can stay for the time being at her home after Sky fills her in on the tragedy she just endured. Skye also discovers she has a half sister named Alex, but their budding sisterhood is complicated by Zoe, the bitchy queen bee whose high school clique freshman Alex has fallen into.
Alex is so determined to be accepted by Zoe's in-crowd that she secretly arranges a booze-soaked party at dad's club, The Bone Yard and steals prescription drugs from mom's medicine cabinet for Zoe and friends to get high on. Little do they know that Skye's dangerously obsessive father Charlie Rotter is stalking his estranged teenage daughter while scheming revenge against his now well-off ex and her new family. Charlie is very much alive and he's coming to crash their party.
Will Skye and Alex be able to survive or is this the last party either one of them will ever attend?
You've got the usual gruesome murders with lots and lots of blood and gore, drugs, random drunk and horny teenagers and at the end you're left you wondering if they're going to make a 3rd movie.
"My Super Psycho Sweet 16: Part 2 " is a worthy sequel that is actually a logical dramatic continuation of the previous lame film. It has a better pace, darker plot and more suspense. Let's see how the 3er installment will be...
My Super Psycho Sweet 16: Part 2 Quotes
There are no approved quotes yet for this movie.