My Week with Marilyn
(2011)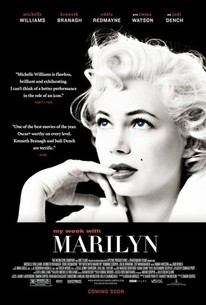 My Week with Marilyn Photos
Movie Info
In the early summer of 1956, 23 year-old Colin Clark (Eddie Redmayne), just down from Oxford and determined to make his way in the film business, worked as a lowly assistant on the set of 'The Prince and the Showgirl'. The film that famously united Sir Laurence Olivier (Kenneth Branagh) and Marilyn Monroe (Michelle Williams), who was also on honeymoon with her new husband, the playwright Aurthur Miller (Dougray Scott). Nearly 40 years on, his diary account The Prince, the Showgirl and Me was published, but one week was missing and this was published some years later as My Week with Marilyn - this is the story of that week. When Arthur Miller leaves England, the coast is clear for Colin to introduce Marilyn to some of the pleasures of British life; an idyllic week in which he escorted a Monroe desperate to get away from her retinue of Hollywood hangers-on and the pressures of work. -- (C) Weinstein
News & Interviews for My Week with Marilyn
Critic Reviews for My Week with Marilyn
Audience Reviews for My Week with Marilyn
A decent yet unmemorable biopic that has Michelle Williams doing a good job even though she doesn't resemble the real Marilyn at all (she can't even imitate her voice) - not to mention, of course, that this is a role that should be played by an actress with a much greater sex appeal.
Carlos Magalhães
Super Reviewer
½
Dame Sybil Thorndike:  First love is such sweet despair, Colin. My Week with Marilyn is such a terrific film with great performances from big names like Michelle Williams and Kenneth Branagh, and littler names like Eddie Redmayne and Philip Jackson. What makes this movie the pleasure it is, is definitely the top notch cast. Michelle Williams just continues to top herself with everything she does and her performance as Marilyn Monroe is no different. She is absolutely fantastic. The other standout is Eddie Redmayne, who plays Colin Clark. Colin Clark is a 23 year old and has aspirations of making it in the movie business. He works hard to try to get a spot on the production team of Sir Laurence Oliver's next film, which happens to star Marilyn Monroe. Colin is given a position as 3rd Assistant Director and is basically nothing more then an errand boy. He catches the eye of Marilyn though, as he is different from the rest of the films production team. We also get a glimpse at the tense relationship between Oliver and Monroe as they work on the film. I love movies that show the behind the scenes look at famous people, and with My Week with Marilyn we are given that opportunity. It's also a film of subtlety, which I also love. Marilyn's lifestyle isn't made center stage in the film, but the glimpses we get of it are enough. It's just a really well written and directed film.  My Week with Marilyn is a must see in my opinion. I loved each and every second of it and can't wait to watch it again. This is one of those films I can see myself revisiting many times and I'm sure I will. 
Melvin White
Super Reviewer
I did like this movie, but I think I found the point-of-view too jarring to really be able to get into it; the story was occasionally about the person who's week the title it was, but mostly, it was about Marilyn Monroe. This approach gave us an interesting angle for a biopic - sparing us, thankfully, from the Hollywood formula that so often garners Oscar nominations like Michelle WIlliams's for this role - but I found that wet-noodle Colin (Eddie Redmayne) got in the way of this story about Marilyn Monroe; to my mind, either Colin should've been the hero and Marilyn only seen occasionally, or Marilyn the heroine and Colin only seen occasionally. Dividing their screen time more or less equally made it difficult for me to get into either character's shoes, and I was unsatisfied as a result. It's beautifully shot, though, and Kenneth Branagh channeled Laurence Olivier impressively. A good enough film, but not quite great; a near-miss.
Daniel Perry
Super Reviewer
My Week with Marilyn Quotes
| | |
| --- | --- |
| Sir Laurence Olivier: | She's quite wonderful. No training, no craft, no guile, just pure instinct. Astonishing. |
| Colin Clark: | You should tell her that. |
| Sir Laurence Olivier: | Oh, I will. But she won't believe me. That's probably what makes her great, yet it's certainly what makes her so profoundly unhappy. |
| | |
| --- | --- |
| Lucy: | Did she break your heart? |
| Colin Clark: | A little. |
| Lucy: | Good, it needed breaking. |
| | |
| --- | --- |
| Marilyn Monroe: | All people ever see is Marilyn Monroe. As soon as they realize I'm not her, they run. |
| | |
| --- | --- |
| Colin Clark: | It's agony because he's a great actor who wants to be a film star, and you're a film star who wants to be a great actress. This film won't help either of you. |