My Worst Nightmare
(2012)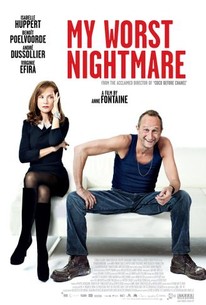 My Worst Nightmare Photos
Movie Info
She lives with her son and her husband in a well-to-do apartment opposite the chic Luxembourg gardens... He lives alone with his son in the back of a van. She is the director of a prestigious contemporary art foundation... He lives off odd jobs and social security benefits. She graduated after 7 years at university... He almost spent 7 years behind bars. She is on familiar terms with the Ministry of Culture and Arts... He is on familiar terms with each and every alcoholic beverage that happens to cross his path. She enjoys intellectual debates... He enjoys casual sex with large bosomed bedfellows. They are poles apart... and can't stand the sight of one another. Besides, they should never have met, but their children are inseparable... In the end, they'll eventually come to understand why... -- (C) Strand
Critic Reviews for My Worst Nightmare
Audience Reviews for My Worst Nightmare
½
With an upcoming gallery opening, Agathe(Isabelle Huppert) finds her plate full. Then there is a school meeting about standardized testing which is hijacked by Patrick(Benoit Poelvoorde), a laborer, who is more interested in school lunches. What Agathe is also interested in is the continuing renovations in the apartment she shares with her longtime significant other Francois(Andre Dussollier), a publisher, which is where Patrick reenters the picture. To its credit, "My Worst Nightmare" does not exactly have a nightmarish scenario. In fact, it has an archetypical set-up for romantic comedy in its pairing of opposites who initially misunderstand each other. But then director Anne Fontaine's aesthetic is prickly, not exactly conducive to this sort of thing. Even worse is the fact that she does not understand Isabelle Huppert who instead of playing the monster that was expected turns it around to find the humanity in Agathe while making it look so very effortless. That ironically undermines Francois' mortal fear of Agathe and a good deal of the comedy, even as Andre Dussollier is very funny here.
½
This film is a pretty cliched look at relationships between people of different societal classes. Agathe is rich with a stick up her ass, she's pretentious and frigid. Patrick is poor and he's unrestrained, says what's on his mind and is really kind of sleazy. Opposites attract eh? So yea, you've seen this before and will probably see it again. The film certainly gets some good laughs out of Patrick's politically incorrect personality, and Benoit Poelvoorde does a good job at making this character likable, in spite of all his faults, but there are some moments in the second act where the movie just slows down tremendously and kinda loses its charm. Admittedly, the film tries to give Patrick a little depth with the narrative of how he tries to do everything he can to keep his son. And the fact is that Patrick is not just what he appears to be at first. They don't tell you a lot about his past, but you know he's gone through some shit and that's thanks to Benoit's performance. Basically, the film works past its cliches thanks to Isabelle Huppert's and Benoit's performances. It's kinda weird seeing Isabelle doing this type of movie, she usually does these films where she's playing incredibly serious characters. While, for the most part, the character is very serious, there are some surprising moments of comedy from her character and it was, while refreshing to see, strange at the same time. If you're looking for a light comedy that's easy to get into, then you're definitely barking up the wrong tree. The framing of the story reads like it's gonna be a light comedy, but it's nothing like it. I like that the film focuses on the characters, but I just found the entire film to be lacking something that would've taken it to the next level. There's just something in the second act that brings the film to, almost, a complete stop and it doesn't really recover until it's far too late. Still, it's a decent movie at best. Not bad at all.
Jesse Ortega
Super Reviewer
½
Blunt welfare case meets Parisian upper class. Sound familiar? My Worst Nightmare, at first glance, appears like plagiarism of the international smash hit The Intouchables. A true enough thing to deduce, if it didn't in fact see its first light (or rather to say theatre murk) a couple of months before its acclaimed sibling. Comparisons are nonetheless inevitable, when garrulous handyman Patrick insinuates himself into the daily life of art gallery director Agathe and her husband, by reason of their teenage son being best friends with Patrick's equal-aged boy. Rich meets poor, class-distinctions are to be overcome - aye, you can probably figure out the rest. More essential in the narrative is Patrick's struggle in retaining custody of his son. Via renovation jobs at Agathe's and her family, he gets the opportunity he's been looking for. Rather wooden and babbly for the most part, even if things shape up towards the end. Whenever alcohol enters the picture, however, it just turns to tragedy and bizarreness. Not least when Agathe's husband starts two-timing with a girl who is young enough to be his granddaughter. What impressions does one take with you then from such a platitude of a film? That "sugar-daddering" is acceptable behavior and unfaithfulness can be taken with a shrug? From a strictly moral perspective, it's difficult not to be put off. All due respect to love beyond age and boundaries, but I'm sure it can be portrayed with more dignity than this. There's drilling, hammering, clobbering - yes, even a momentary visit at IKEA. But it's not Agathe's apartment that needs a make-over, but a script whose class-conscious themes have been covered countless times before and countless times better. A success in France, granted, but the average Joe will probably require a more mellow piece of entertainment to keep warm with in the chills of autumn. Oh well, c'est la vie.
My Worst Nightmare Quotes
There are no approved quotes yet for this movie.