Myra Breckinridge
(1970)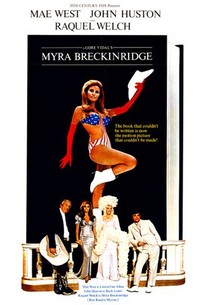 Movie Info
This uneven film is taken from the novel by Gore Vidal. This book is an amusing story about sexual transformation, but despite an all-star cast, the film is a dismal failure. Myra (Raquel Welch) undergoes a sex change operation by two doctors (John Carradine and Jim Backus) and becomes a man (Rex Reed). This alone is enough to qualify as a horror film. Leticia (Mae West) is the lecherous theatrical agent who scouts talent at the acting school of Buck Loner (John Huston). West makes her first film appearance in 26 years. Farrah Fawcett play Mary Ann, who stirs the lesbian fantasies of Myra, and Tom Selleck is one of Leticia's serviceable studs. Myra makes love with Rusty (Roger Herren), his first amorous experience. Andy Devine, Calvin Lockhart, Roger C. Carmel and Kathleen Freeman also appear in this film. The thin plot find Myra seeking out Buck for an inheritance from a distant relative. William Hopper appears as a pot smoking judge. It would be decades before British director Michael Sarne would be given an assignment after this disaster. After appearing as an actor in a 1967 film, he went 25 years until his next film role, qualifying him as a true Hollywood enigma.
Critic Reviews for Myra Breckinridge
Audience Reviews for Myra Breckinridge
½
Just awful, disconnected scenes that add up to nothing. The clips from old films are the best part of this one.
½
How can a sex farce starring Raquel Welch at her peak voluptuousness be so dull? This is like a porn flick with the porn edited out. An endless stream of set pieces that go nowhere. Myron Breckinridge (film critic Rex Reed) has an implausible sex change and re-emerges as gorgeous Myra (Welch). She blackmails her goofy uncle (director John Huston, embarrassing himself with an awful Slim Pickens impression) into giving her a faculty post at his bogus acting school/commune and, there, sets upon her vengeful quest to destroy the mythos of the American male. Or something. That's about where the plot's momentum grinds to a stop. Mae West creaks in with her dinosaur act, portraying an agent who's fixated on having sex with men a third of her age (including a young, moustache-less Tom Selleck). It's as if she's in her own separate movie. She probably agreed to appear on condition that she have top billing and be allowed to lead a song-and-dance number. And we're forced to sit through it. She and Welch have just one scene together, and their faces never appear in the same frame. Meanwhile, ingenue Farrah Fawcett also enters the story, pokes out her nipples everywhere yet still can't make the film interesting. Even a bedroom scene with Welch doesn't pay off. How is that possible? Repeated mentions of "balling" date the script, and further star cameos from Jim Backus, John Carradine and Andy Devine add nothing. The insertion of vintage movie clips (lots of Laurel and Hardy) mostly just pad out the running time and, in the end, the greatest pleasures are simply Welch's stylish costumes and game willingness to debase herself with references to orgasms, urine specimens and "motherfuckers." And, oh yes, there's her notorious anal-rape sequence. (Hint: She's not the one being raped.) What was the point of Toni Basil repeatedly turning up, just to chew gum like some stereotyped teen delinquent?
Eric Broome
Super Reviewer
½
A very campy sex comedy/revenge flick, starring the always luscious Raquel Welch, that doesn't hold up well. The characters are overblown and stereotypical, the sex (what there is) is pretty tame, and the controversial nature of the story seems a lot less scandalous today than it would have been forty(!) years ago. Still there were a few chuckles to be found, so not all was wasted. This viewer saw a bit of Fellini and some similarities to Dr Strangelove, but overall, not a highly rewarding film.
Mark Abell
Super Reviewer
Myra Breckinridge Quotes
There are no approved quotes yet for this movie.