Mystery Men
(1999)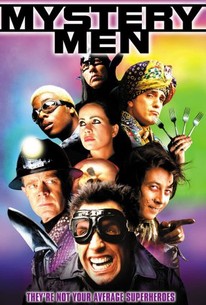 TOMATOMETER
AUDIENCE SCORE
Critic Consensus: Absurd characters and quirky gags are brought to life by a talented cast, providing this superhero spoof with lots of laughs.
Movie Info
Based on the Dark Horse comic, Mystery Men. Seven lame superhero wannabes, who are called upon to use their dubious "powers" to save a bustling metropolis when Champion City's beloved real superhero-protector, Captain Amazing, is kidnapped. The wannabe heroes square off against the vile villain, Casanova Frankenstein, and his beautiful sidekick, Dr. Anabel Leek, as they try to stop Casanova's dastardly plot to take over the city.
Critic Reviews for Mystery Men
Audience Reviews for Mystery Men
A wacky, silly occasionally hilarious tale of a group of unlikely superheroes who struggle to stay together after their leader, Captain Amazing (Greg Kinnear) is taken, and a new villain (Geoffrey Rush) emerges as a legitimate threat to overrun their city with evil. The set designs perfectly match the acting, overdone and colorful, and even when the film veers all over the place, it still remains largely entertaining. However, the running time is much too long, there is no reason for a movie like this to surpass two hours. With that said, it is funny in spurts, and Ben Stiller's energetic performance is often enough to keep the movie watchable. Far from perfect, far from terrible, just an average little weird film.
Dan Schultz
Super Reviewer
[img]http://images.rottentomatoes.com/images/user/icons/icon14.gif[/img]
Directors Cat
Super Reviewer
Not the worst superhero movie ive ever watched however i wouldnt say its that great either! Its amusing in places but not enough for it to be honestly called a comedy! I don't like Ben Stiller as an actor and so he was the one i disliked most in this movie which isnt a surprise! Good cast in my opinion but not a great movie, watchable on a wet sunday afternoon whilst doing the ironing and catching glimpses of the actual movie!
Film Crazy
Super Reviewer
Mystery Men Quotes
| | |
| --- | --- |
| Spleen: | (talks about his curse) ... I blamed it on an old gypsy woman who happened to be passing by. BIG! MISTAKE! |
| Spleen: | [talks about his curse] I blamed it on an old gypsy woman who happened to be passing by. BIG! MISTAKE! |
| | |
| --- | --- |
| Mr. Furious: | I don't need a compass to know which way the wind shines. |
| | |
| --- | --- |
| Shoveler: | Don't start that again. Lance Hunt wears glasses, Captain amazing doesn't wear glasses. |
| Mr. Furious: | He takes them off when he transforms. |
| Shoveler: | That doesn't make any sense. he wouldn't be able to see. |
| | |
| --- | --- |
| Mr. Furious: | [talking about Carmine the Bowler] Seems there was a little controversy there regarding your father's death. |
| The Bowler: | Yes, the police said he fell down an elevator shaft. Onto some bullets. |
| Blue Raja: | You know, I've always suspected a bit of foul play there. |
| The Bowler: | As have I. |