Naked Childhood (L'Enfance nue)
(1969)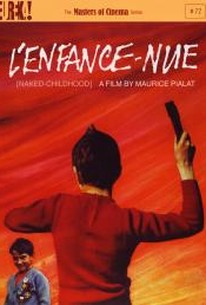 Movie Info
In this children's drama, a 10-year old boy becomes deeply troubled after his mother abandons him and he must go through a series of foster families. He finally finds one and finds himself befriended by a kindly grandmother with whom he really bonds. Unfortunately, she suddenly dies, and the boy is unable to cope. He begins causing trouble and winds up in a special school. Fortunately, he knows that he can return to the family when he is released. ~ Sandra Brennan, Rovi
Critic Reviews for Naked Childhood (L'Enfance nue)
Audience Reviews for Naked Childhood (L'Enfance nue)
very strong and heartbreaking film. an almost documentary look at a foster child and his troubles
Stella Dallas
Super Reviewer
½
In "L'Enfance Nue," Simone(Linda Gutemberg) and Robert Joigny(Raoul Billerey) at one time thought adding a foster child to their family would be a good idea, especially as it would mean their daughter Josette(Pierrette Deplanque) would no longer have to grow up alone. That was before they took in Francois(Michel Terrazon) who they can no longer put up with, especially in the wake of his petty thievery and marking his territory. Killing the family cat is the final straw and the authorities take him back. Soon afterwards, he is placed with an older couple(Marie-Louise Thierry and Rene Thierry) who have plenty of experience with foster children. "L'Enfance Nue" is an understated social drama whose target is the foster care system in France at the time the film was made. It should be pointed out that there are no villains; everybody is trying to do the right thing, just out of their depths.(That having been said, heaven help you if you are black and want to be adopted.) That doesn't mean children do not suffer and I think Francois is a prime example of that. While he does awful things, he is not totally bad and is capable of thoughtfulness like the farewell gift for Simone. And it is telling that Francois Truffaut is one of the producers(about the only time he was a producer on a film he did not direct, by the way) in that it shares his preoccupation with lost children, the subjects of two of his best films, "The 400 Blows" and "Small Change."
Naked Childhood (L'Enfance nue) Quotes
There are no approved quotes yet for this movie.