Naked Lunch
(1991)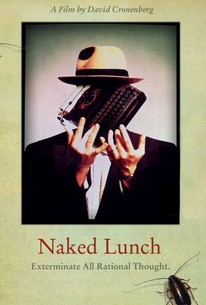 Movie Info
David Cronenberg and William S. Burroughs: a potent, disgusting combination. This is not actually a film version of the infamous novel, but a fusion of Burroughs' biography and his literary style (like Steven Soderberg's underappreciated Kafka). Peter Weller plays exterminator Bill Lee, whose wife (Judy Davis) gets hooked on the bug powder and drags Bill along for the hallucinatory ride. He starts to receive secret messages from giant mutant beetles and kills his wife in a misguided game of William Tell. Under orders from the bugs, Bill becomes a writer and gets advice and orders from his own insectoid typewriter. Eventually, he goes to the mysterious city of Interzone, where he meets more creepy writer types and is introduced to more and more exotic mind-altering chemicals. Not for insectophobes.
News & Interviews for Naked Lunch
Critic Reviews for Naked Lunch
Audience Reviews for Naked Lunch
[img]http://images.rottentomatoes.com/images/user/icons/icon13.gif[/img]
Directors Cat
Super Reviewer
½
A surrealist film from the debonair auteur with a flair for the unsettling: David Cronenberg. Adapted from the William S. Burroughs novel and starring the eccentric yet keen Peter Weller, there is a fine line between utmost devotion and utter loathing for this film. For me it wasn't exactly the realism in the fantasies as seen through the eyes of a puritanical junkie, but how these obvious hallucinations interacted with the fantastical plot and the cavalcade of characters. The film follows an exterminator named William Lee who becomes addicted to the bug powder he peddles, and starts having intense and very specific kinds of hallucinations that drive him to start a life of crime, insanity, and commonly talking to his typewriter. These hallucinations tell him that he's a secret agent, his wife is against him, and homosexuality is a sin but is essential in the line of duty. Throughout the film visions of talking cockroaches/typewriters, and out of this world octopus hybrids are seamlessly strung along the plot to encompass the true absurdity of the situation. William Lee is an interesting character on his own, without the eccentricities that being a junkie include. He's cryptic with his words, and the strange speeches he spills forth are slightly egomaniacal and very isolating. He still interacts with the populous while hiding in plain sight, but when he is alone it's a depth of darkness that has to stay hidden and leads to more egotistical rants by William himself. The reason this film is so unbelievably amazing to me is that he recognizes that these hallucinations are just that in the beginning, the fact that a bug was communicating with him was something that led to his mind expelling the beast. Still, his problematic brain and his dire reality fuse to become a powder keg of insecurities. He knows these things are in his mind, but he's not sure if he's replacing them with actual human contact or it's an amalgamation of the drugs and what we all call reality. It's the fact that we only see a small glimpse of truth, once during the film, and the rest is some dream sequence with no true parameters except a timeline, which makes this genius. Yes, the bugs and parasitic creatures are unsettling and have the same monotone, warbling voices, but they're all part of the mindset of a very imbibed individual. The one thing that perturbed me was the psychotic ending with the strange yet logical reveal. It was too crazy, too convoluted and intricate to be a hallucination. While this film is not for everyone, it does give a great interpretation of a comparatively half-real life, powered by a strong drug of choice.
Spencer S.
Super Reviewer
Bill Lee: America is not a young land. It is old and dirty, evil. Before the settlers, before the Indians, the evil is there, waiting.  "Exterminate all rational thought." Beyond bizarre. So far beyond bizarre that it's hard to organize my thoughts about what I have just seen. All I know for sure is that in the end, I really didn't care for it. For the first half hour or so, I was in love with the movie. I found the whole insect poison as a drug thing interesting. As the film went on, I started to fall out of love with it. Then altogether, I just lost interest in what I was seeing. The viewing experience is very much like getting high. At first your having fun, it is a great time; but you must come down, and I did... hard.  To explain more than a few details of this plot would be tedious. So I'll just keep it to the bare minimums. An exterminator learns that his wife has been stealing his powder and has been shooting it up. His wife then turns him, an ex-junkie himself, onto the drug and soon is just as addicted as his wife. Then he starts hallucinating. Bugs are telling him secret information about all sorts of wild stuff. For awhile, the bug scenes are incredibly interesting, but after the third or fourth one, they become boring.  I won't say that I hated this movie altogether. Maybe with another watch later in life, I'll enjoy the whole experience more. Cronenberg is just a weird director and that's what makes him so interesting. I can't say that I'm a huge fan of him, yet. I've only seen five of his movies and I have fallen completely in love with any of them. But one thing I will say is that the bizarreness of Cronenberg is much easier to watch and get through, than that of Lynch. If this plot at all interests you, I would at least give it a shot. It's well made and big time fans of Cronenberg should love it. Even if you don't like it in the end; there's enough interesting stuff going on, that it won't feel like you just completely wasted your time. You are sure to see images that you have never seen in another movie.
Melvin White
Super Reviewer
Naked Lunch Quotes
| | |
| --- | --- |
| Dr. Benway: | Speaking of new uses for old technology, we could use a man of your calibre. A 32, wasn't it? |
| | |
| --- | --- |
| 2nd Exterminator/Creature Voices: | Take it from me Bill, your not the first person to develop a bug powder problem.... |
| | |
| --- | --- |
| Joan Frost/Joan Lee: | It's a literary high, a Kafka high. You feel like a bug. You want to try? |
| William Lee: | I don't know, our metabolism's are very different... |
| Joan Frost/Joan Lee: | You mean yours and Kafkas? |
| | |
| --- | --- |
| Yves Cloquet: | I've seen you around, but I had no idea you were queer' |
| Yves Cloquet: | I've seen you around, but I had no idea you were queer. |
| William Lee: | Yes, the Lee's have always been perverts |
| William Lee: | Yes, the Lee's have always been perverts. |