The Naked Spur
(1953)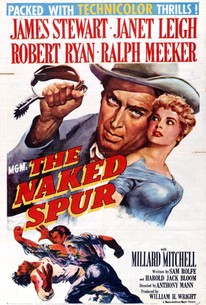 Movie Info
In this film, James Stewart plays a taciturn frontiersman who loses his home while he's off fighting the Civil War. To raise enough money for a new grubstake, Stewart becomes a bounty hunter in Colorado territory. His first quarry is fugitive killer Robert Ryan.
Critic Reviews for The Naked Spur
Audience Reviews for The Naked Spur
As "The Naked Spur" opens, Jimmy Stewart has met an old prospector up in the hills and has hired him on to help track down a dangerous fugitive. This is all the set up required for this movie, as the film takes place wholly within these mountains and forests, and with the exception of the nameless indians who attack them, involves just five people. There's Stewart as Kemp, an amateur bounty hunter, out to get the money needed to buy back his ranch, Jesse the prospector (Millard Mitchell) and Roy the dishonorably discharged, indian-hunting soldier (Ralph Meeker). The three men have been thrown together by chance in order to bring Ben (Robert Ryan) back to justice, along with a young woman (Janet Leigh) Ben has snatched up along the way. Roy isn't very trustworthy, as his constant smiling demeanor lets us know. But it's the prisoner Ben who is the most fearsomely manipulative. He knows it's his neck that's going to be in the noose when they get back, and he tries everything in his power to squirm his way out of the rope they've got him in. The Naked Spur has more than a little in common with "The Treasure of the Sierra Madre", only instead of gold, the treasure is the outlaw. Stewart is in his own way, as hard as Bogart from that film, but Stewart's character is offered a happy ending, if he so chooses to accept it. In that way, The Naked Spur tries to offer a more redeeming morality in the end, and it's not necessarily for the better.
Devon Bott
Super Reviewer
One-dimensional characters and corny situations stand between The Naked Spur and broad appeal. Still, Jimmy Stewart can make ANY script seem interesting and plausible.
Randy Tippy
Super Reviewer
Another boring confusing stupid western that I did not like. Of course there are good actors in this movie, so maybe you'd like it if you like westerns.
The Naked Spur Quotes
There are no approved quotes yet for this movie.