Nameless Gangster
(2012)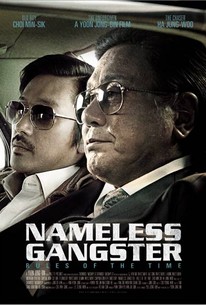 Movie Info
On the verge of being laid off, corrupt customs officer Choi Ik-hyun finds a methamphetamine shipment. His life turns around when he partners with the harbor city's biggest crime organization boss, Choi Hyung-bae to make money off it. They eventually find out they are distant relatives. Hyung-bae helps Ik-hyun set up a business with the money from drug trafficking while Ik-hyun lobbies for his partner Hyung-bae. With his unique wit and ability to make people like him, Ik-hyun borrows Hyung-bae's power to take over Busan. However, the partnership turns sour over delings with a rival organization. Soon after, the government declares war on crime and Ik-hyeon decides to take the opportunity to set up his partner and escape the tightening grip of the law enforcement. -- (C) CJ Entertainment
Critic Reviews for Nameless Gangster
Audience Reviews for Nameless Gangster
½
Jong-bin Yun's Nameless Gangster stretches as far as it can go without much to back it up.
The plot is too long for its own good; easily past 2 hours and there isn't much to show for it. The pacing isn't exactly at a snail's pace, which is a good thing, but as events come and go it all leads to a climax that never ends up as a memorable highlight. It's almost as if this film goes through the motions then closes its doors light and easy.
For a gangster story it contains its share of violence, mostly in the form of brawls and one-sided beatings. There isn't a whole lot of blood or extreme incidents to get queasy over either.
Min-sik Choi puts on an amusing performance from time to time. His voice really makes him stand out among the rest. His character, on the other hand, doesn't contain much to like. Actually, none of the characters can be considered heroes and this ends up as another disappointing aspect of the film.
As a gangster flick, Nameless Gangster is watchable; not really one to make time for though.
While the movie seems to depend on too many coincidences the exploration of loyalty and greed is effective, along with the performances from both Choi Min Sik and Ha Jung Woo. Watch it before it gets a....yeah, you know what i'm talking about.
Tsubaki Sanjuro
Super Reviewer
½
Great character movie with Min-sik Choi giving a terrific performance! If you're a gangster film fan, this is mandatory viewing.
Christopher Brown
Super Reviewer
Nameless Gangster Quotes
There are no approved quotes yet for this movie.