Napoleon Dynamite
(2004)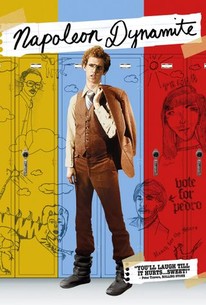 Movie Info
The directorial debut of filmmaker Jared Hess, who also co-wrote the screenplay, Napoleon Dynamite is a quirky, offbeat comedy set in the small Idaho town of Preston. Jon Heder stars in the titular role, a carrot-topped oddball with a decidedly eccentric family that includes his llama-loving, dune-buggy enthusiast grandmother. The story centers on the local high school's race for class president. Using some nontraditional means, Napoleon is determined to help his pal Pedro (Efrem Ramirez) run a winning campaign and defeat popular girl Summer (Haylie Duff). Also starring The Drew Carey Show's Diedrich Bader, Napoleon Dynamite premiered at the 2004 Sundance Film Festival. ~ Matthew Tobey, Rovi
Critic Reviews for Napoleon Dynamite
Audience Reviews for Napoleon Dynamite
Napoleon Dynamite is based on a series of skits that were showcased on MTV and feature a buck-toothed, slack-jawed high school nerd who lives in a fantasy world of his own construction. It's an affectionate parody of small town America in the "triumph of the geek" tradition in which the social outcasts find happiness and acceptance in the face of abuse and derision by their more popular peers. It's more gently amusing than laugh out loud funny as it's just a series of surreal skits revolving around Napoleon and his family's social awkwardness but it's a lot more likeable than most American comedies of this type because it avoids the usual formula of hateful middle class yobs and their bodily secretions amidst vile misogyny that has become the staple of the genre since American Pie sullied our screens. Quirky, silly, inoffensive fun.
½
There was a time when I couldn't go a day without seeing a few 'Vote For Pedro' shirts. Not only is this film so quotable, it's also hilarious and offers many memorable characters. Although, it is very bizarre and the humor may not appeal to everyone. But the originality of it makes it stand out over many other comedies. "Napoleon Dynamite" is destined to be remembered as a comedy classic and rightly so!
Eric Shankle
Super Reviewer
Strange, funny and rare comedy, Napoleon Dynamite present a deadpan humor with a very good screenplay and direction by Jared and Jerusha Hess, just like the acting of the cast, especially by Jon Heder in the title role and Aaron Ruell as Kip. Napoleon Dynamite it's the kind of film that you want see more, but a sequel gonna be just worse. Charming and delighful. Fresh.
Lucas Martins
Super Reviewer
Napoleon Dynamite Quotes
| | |
| --- | --- |
| Napoleon Dynamite: | Heck yes ! I'd vote for you. |
| Napoleon Dynamite: | Heck yes! I'd vote for you. |
| | |
| --- | --- |
| Napoleon Dynamite: | Tina you fat lard |
| Napoleon Dynamite: | Tina you fat lard. |
| | |
| --- | --- |
| Deb: | Is there anyone else here? I'm trying to save money for college. |
| Kip: | Your mom goes to college! |
| | |
| --- | --- |
| Napoleon Dynamite: | I don't even have any skills. |
| Pedro: | What do you mean? |
| Napoleon Dynamite: | You know, like nunchuck skills, bo hunting skills, computer hacking skills. Girls only like guys who have great skills. |