Narc
(2002)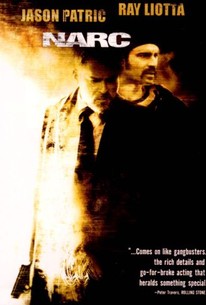 Movie Info
Nick Tellis is a recovering drug addict. But staying clean is not so easy for this Detroit narcotics officer when the police department reinstates him in order to investigate an elusive 'narc' squad homicide. After a rookie cop is mysteriously killed in the line of duty, the police department teams Tellis up with the dead cop's partner--the volatile Lieutenant Henry Oak--to solve the murder. Soon the two of them find themselves crawling through the mean streets of Detroit. Their probative investigation leads them through filthy drug dens, crack houses, and alleyways to track the killer, but these all too familiar surroundings plague Tellis like a nightmare. As Tellis gets closer to revealing the truth behind the murder, he finds himself in jeopardy of losing his family, his dignity, and his life.
Audience Reviews for Narc
½
Brilliant film about an undercover narcotics officer in Detroit who is brought back into a murder case of a fellow policeman after he is suspended from the force due to a drug bust gone awry. Jason Patric and Ray Liotta star in this mesmerizing film that has quite a twist and mood to it created by the dim cinematography, apt score and of course, the bleak subject matter that allows for real suspense and tension between the good, bad, and the ugly. This is one of those films that kind of got swept under the carpet, but is definitely a fine film worth checking out. Jason Patric is an underrated actor who turns in yet another good piece of character work and probably his best since "Rush" and "After Dark My Sweet". I'd say that this film is kind of Jason Patric's "Serpico".
A detective discharged after the accidental shooting of a pregnant bystander is partnered with a veteran detective with a reputation for excessive force to track down the killers who murdered an undercover cop. In the highly overpopulated genre of the cop thriller, Narc is neither the most original or most action packed, but what it does brilliantly is in the details. Carnahan is obviously influenced by the gritty cop dramas of the 1970s, particularly the likes of Serpico and The French Connection and the result is a very hardcore and believable character study of the men trapped in the grimy world they are trying to bring to justice. It features dialogue that's not exactly high art, but always rings true (even in the unsentimental domestic drama involving Patric and his wife) which combined with the excellent central performances make you actually feel submerged in his twilight world. Carnahan is perhaps occasionally a little too filter happy and gimmicky in his direction and the ending feels a little too neat considering the grittiness of the rest of the story, but if you like modern cop dramas such as The Wire and The Shield, you'll love this.
One of the best hard-nosed cop dramas of recent memory. I know it's not exactly original but I was riveted the entire time I was watching it. Jason Patric and Ray Liotta turn in some amazing performances. It's also great to see Chi McBride given a serious role for a change. Joe Carnahan is one of my top directors to watch out for. The guy definitely has the chops to full off a good solid flick, and this is one of them. It has a lot of substance and style and keeps you interested at every turn. So what if it reminds me of Homicide: Life on the Street? I don't care. This is a damn good movie!
Tim Salmons
Super Reviewer
Narc Quotes
| | |
| --- | --- |
| Lt. Henry Oak: | "There are no lawyers, dumb-f***!! It's just me and you, and I am in your s*** for the duration!!" |
| Lt. Henry Oak: | There are no lawyers, dumb-f***!! It's just me and you, and I am in your s*** for the duration! |