Naruto Movie: Guardians of the Crescent Moon Kingdom
(2006)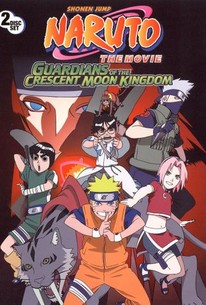 AUDIENCE SCORE
Critic Consensus: No consensus yet.
Movie Info
Naruto, Sakura and Kakashi team up with Rock Lee to protect Prince Michiru and his son Hikaru on their return home to the Crescent Moon Kingdom. Easy enough, until the royal family becomes a royal pain!
Critic Reviews for Naruto Movie: Guardians of the Crescent Moon Kingdom
There are no critic reviews yet for Naruto Movie: Guardians of the Crescent Moon Kingdom. Keep checking Rotten Tomatoes for updates!
Audience Reviews for Naruto Movie: Guardians of the Crescent Moon Kingdom
The biggest most notable problem with this movie is how much it lacks any sense of originality in any category you can think of.
Frisby 2007
Super Reviewer
When in doubt in what to see I go back to a series I have yet to complete. Naruto is a different case since the film adaptations tend to leave out vital information about the world, the characters, and how it function translating poorly for newcomers. So what's better way to familiarize myself with the series than playing videos-games based around the series which helped me understand the world of Naruto allot more than I originally did. However, even after doing some homework on the series it didn't help that this film is inaccessible for the uninitiated, receives another downgrade in production values, and its story will leave you stupor by the end of the whole ordeal. Naruto Movie 3: Guardians of the Crescent Moon Kingdom follows Naruto Uzumaki, Kakashi Hatake, Sakura Haruno, and Rock Lee mission to escort the prince of the Land of the Moon, Michiru, during his trip back home. Like the previous film, unless you're familiar with the material the film will make no effort in providing even the basics. The opening of the movie tells the audience who assigned the heroes their mission and its importance through narration that gets dropped early on, but that's where all the explanations end. How our heroes abilities work and the extent of those abilities aren't discuss. In context of the anime series and manga it eventually explains these things, except in this film any new superpower ability shown is a plot convenience. Taking away any possible enjoyment from any fight scenes since it comes across the writers are just making things up as they go along. Past the film opening you're left with a story with no substance. Suffering from having too many underdeveloped characters and one dimensional villains that get sideline. Once again, in the form a film Naruto and his group aren't engaging characters. Naruto is given the center of attention from the entire team and what screen time Naruto does have paints him negatively. He's not the likable goofball, but an annoying weakling. In this film Naruto picks on a little kid making him look bad. He has the abilities to turn his shadow into clones, but the little spoiled kid he picks on can't even fight. Yeah, that's the sort of hero I want to get behind. Sadly his character doesn't improve falling victim to receiving a beating in nearly every fight he's in. It's hard to overlook how amateur Naruto ability are when the opening of the film said these ninja from a specific clan trained for years. Among this mess of a story that can't mesh family drama, growing up, ninja, possible war torn country, and marriage there's an idea for an engaging story. The characters that receive the most development are Michiru and his son Hikaru who are of rich royal blood. Both of these character arcs play like a coming of age story growing up from their previous ways into maturity. If one were to remove anything ninja related than there's enough ideas to make at least a decent story. As is the case it's not close to average. One plot element that gets toss aside is the trouble marriage that Michiru is facing with his wife leaving. Aside from when it's introduced never again is it brought back. Around the thirty minute mark it felt as if the film would have better fitted being an episode of it rush pacing. Another plot element that is dropped is the whole group dynamic of the team. When it does feature the team dynamic it's the equivalent of sentimentality saying friendship is magic. The character Rock Lee is only in the film for comic relief which is allot more than I could say for the like of Sakura Haruno who once again gets the short end of the stick. Although, it's a slight improvement over the previous film actually beating up a villain henchman with her abilities. These two characters don't have much to do and the team interactions is sparsely spread across. Than the climax overstays its welcome highlighting just how cardboard the characters are and how weak and stupid the villains are. I mean seriously, the villain whole desire is to simply kill a specific person, but simply delays it even receiving that specific person at day time. After a couple of scenes it's night time and cuts back to the villain and he still hasn't killed the one person he wanted to kill the entire time. So mixing incompetent heroes facing against even more incompetent villains. So far the Naruto films have been consistent in downgrading their production values with every preceding film entry, especially the animation department. Once you get past the first three minutes you finally glance at it undetailed art style. There's no depth of perspective making everything look flat. Backgrounds are blurred to cover up dead space and characters designed are more simplified giving them less expressions. Movements are stiff and whenever there's a fight a scene the action moves slowly. It's movement is so bad the film story makes up an excuse for why in a particular scene since it's worse than usual. Action scenes are a huge disappointment with very little usage of jutsu/superpower abilities in fights. Every one of them is rushed, poorly choreographed, and usually only has one person moving while the defender is static until it's their turn to attack. None is more harmful than the climax in which it cuts between three fight scenes and they all play out the same. That's just lazy on the animators part. The only aspect that can't entirely panned is the voice acting. Both the Japanese and English deliver some good performances from the cast. None of them outstanding due to the poor material, but effort is definitely evident by the cast. A technical area that won't register is the music. There's not a single track that will stick with you, but are all place in the appropriate scene. Naruto Movie 3: Guardians of the Crescent Moon Kingdom regardless on your exposure to the series will make you see the closing credits knowing its over. Characters are cardboard, the story is unengaging dropping plot points or leaving them underdeveloped, and the animation is very poor. Not even the action scenes make the endeavor worth sitting through having received a serious downgrade in its visuals and delay movements regardless of what occuring on screen. While fans of the series might be more forgivable to it lack of development in certain area it's story and action is the one area where it completely fails to deliver for any sort of viewers.
Caesar Mendez
Super Reviewer
EightThirty .
Super Reviewer
Naruto Movie: Guardians of the Crescent Moon Kingdom Quotes
There are no approved quotes yet for this movie.