Natalee Holloway
(2009)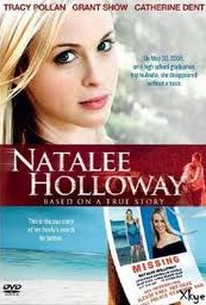 AUDIENCE SCORE
Critic Consensus: No consensus yet.
Movie Info
Inspired by the unsolved mystery surrounding Natalee Halloway's 2005 disappearance, director Mikael Saloman's made for cable drama details one mother's desperate search for her missing daughter. Alabama teenager Natalee Holloway (Amy Gumenick) was on a class trip to Aruba when she vanished without a trace. Over the course of the next four years, her mother Beth (Tracy Pollan), her stepfather George (Grant Show) and their good friend Carol (Catherine Dent) would continually press Aruba authorities for answers while never giving up hope that Natalee could still be alive.
Critic Reviews for Natalee Holloway
There are no critic reviews yet for Natalee Holloway. Keep checking Rotten Tomatoes for updates!
Audience Reviews for Natalee Holloway
This is a sad and tragic true story of the disappearance of a pretty 18 year-old Alabama high-school graduate Natalee Holloway who disappeared on May 30, 2005 during a high school graduation trip to Aruba. Natalee was scheduled to fly home later on May 30, but failed to appear for her flight. She was last seen by her classmates outside nightclub in a car with locals Joran van der Sloot and brothers Deepak and Satish Kalpoe. When questioned, the three men acknowledged that they were with Natalee on the night she disappeared and had given her a lift back to the hotel but denied any wrong doing. Their changing stories and possible cover ups by the Aruban police leaves this case unsolved. As of today Natalee is still considered a missing person. This movie reinforces the risks young girls face when traveling to a foreign country but I would assume there is no need to reinforce running wild in a foreign place and getting drunk because sadly this wouldn't be the first girl to get drunk and have something bad happen to her by the hands of an unscrupulous guy, murdered, raped, sold into the sex trade or white slavery. . In a relentless effort to discover the truth behind her daughter's disappearance, Beth Holloway captured the nation's attention by working tirelessly to solve the mystery that shattered her family's life. While her concerned parents have given up all hope in finding their daughter alive, they just want closure so that they can go on with their lives and finally put their daughter to her eternal rest! This is a movie of every parents' nightmare and well worth looking at. (Why can't life be like the movies"Taken" comes to mind, where good always conquer over evil or maybe we need more Liam Neesom as Fathers.) I thought this movie was a good representation of a tragedy even though Aruba does come off looking badly but that is just my opinion....and I do realise there are similar such incidents all over the world that does not receive the same acclaim as this one did but then such is life..it is not always very fair!!!
½
Such a sad story. I can't believe it still remains unsolved.
Erin Collins
Super Reviewer
Natalee Holloway Quotes
There are no approved quotes yet for this movie.