National Lampoon's Animal House
(1978)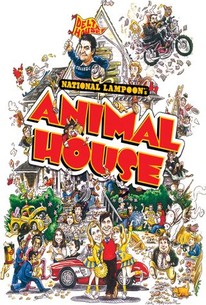 TOMATOMETER
AUDIENCE SCORE
Critic Consensus: The talents of director John Landis and Saturday Night Live's irrepressible John Belushi conspired to create a rambunctious, subversive college comedy that continues to resonate.
National Lampoon's Animal House Videos
National Lampoon's Animal House Photos
Movie Info
Director John Landis put himself on the map with this low-budget, fabulously successful comedy, which made a then-astounding 62 million dollars and started a slew of careers for its cast in the process. National Lampoon's Animal House is set in 1962 on the campus of Faber College in Faber, PA. The first glimpse we get of the campus is the statue of its founder Emil Faber, on the base of which is inscribed the motto, "Knowledge Is Good." Incoming freshmen Larry "Pinto" Kroger (Tom Hulce) and Kent "Flounder" Dorfman (Stephen Furst) find themselves rejected by the pretentious Omega fraternity, and instead pledge to Delta House. The Deltas are a motley fraternity of rejects and maladjusted undergraduates (some approaching their late twenties) whose main goal -- seemingly accomplished in part by their mere presence on campus -- is disrupting the staid, peaceful, rigidly orthodox, and totally hypocritical social order of the school, as represented by the Omegas and the college's dean, Vernon Wormer (John Vernon). Dean Wormer decides that this is the year he's going to get the Deltas expelled and their chapter decertified; he places the fraternity on "double secret probation" and, with help from Omega president Greg Marmalard (James Daughton) and hard-nosed member Doug Neidermeyer (Mark Metcalf), starts looking for any pretext on which to bring the members of the Delta fraternity up on charges. The Deltas, oblivious to the danger they're in, are having a great time, steeped in irreverence, mild debauchery, and occasional drunkenness, led by seniors Otter (Tim Matheson), Hoover (James Widdoes), D-Day (Bruce McGill), Boon (Peter Riegert), and pledge master John "Bluto" Blutarsky (John Belushi). They're given enough rope to hang themselves, but even then manage to get into comical misadventures on a road trip (where they arrange an assignation with a group of young ladies from Emily Dickinson University). Finally, they are thrown out of school, and, as a result, stripped of their student deferments (and, thus, eligible for the draft). They decide to commit one last, utterly senseless (and screamingly funny) slapstick act of rebellion, making a shambles of the university's annual homecoming parade, and, in the process, getting revenge on the dean, the Omegas, and everyone else who has ever gone against them. ~ Bruce Eder, Rovi
Critic Reviews for National Lampoon's Animal House
Audience Reviews for National Lampoon's Animal House
½
Some of the gags are silly and dated (especially towards the end of the movie), but most of them are hilarious even without need of a well-defined structure to wrap around them, since this is a comedy that works quite well as a loose series of raunchy chronicles of college.
Carlos Magalhães
Super Reviewer
½
When you look past its obviously thin script, you can't help but admire the anarchy and absurdity of this film. National Lampoon's Animal House's senseless hysteria and laughs to go along with the enigmatic charm of John Belushi make for a timeless party-themed film that would launch a genre of wild, chaotic party films to come. 3.5/5
Eugene Bernabe
Super Reviewer
½
National Lampoon's Animal House presents a subversive and funny screenplay and the talents by John Landis in direction and John Belushi in the cast. Animal House, for sure is a great inspiration for the 80's comedy movies, and to a unforgetable generation of comedians and to everyone that lived these time. Crude humor and good entertaining. Fresh.
Lucas Martins
Super Reviewer
National Lampoon's Animal House Quotes
| | |
| --- | --- |
| John "Bluto" Blutarsky: | Toga! Toga! |
| | |
| --- | --- |
| John "Bluto" Blutarsky: | See if you can guess what I am now. [puts a scoop of mashed potatoes in his mouth and slams his cheeks with his fists and spits it out] I'm a zit! Get it?? [he smiles] |
| John "Bluto" Blutarsky: | See if you can guess what I am now. [puts a scoop of mashed potatoes in his mouth and slams his cheeks with his fists and spits it out] I'm a zit! Get it? [he smiles] |
| | |
| --- | --- |
| Doug Neidermeyer: | You're all worthless and weak! |
| | |
| --- | --- |
| John "Bluto" Blutarsky: | My advice to you is to start drinking heavily. |