National Lampoon's European Vacation
(1985)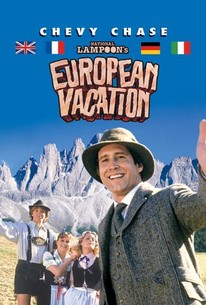 TOMATOMETER
AUDIENCE SCORE
Critic Consensus: European Vacation charts a course through a succession of pretty destinations, but the journey itself lacks the laughs that made the original outing so memorable.
National Lampoon's European Vacation Photos
Movie Info
Despite the many adventures they suffered in National Lampoon's Vacation, the Griswold family decides to take another crack at having fun. This time, the doltish clan heads across the Atlantic for a whirlwind vacation after winning a game show. Will the monuments of Europe survive? ~ Sandra Brennan, Rovi
News & Interviews for National Lampoon's European Vacation
Critic Reviews for National Lampoon's European Vacation
Audience Reviews for National Lampoon's European Vacation
½
"European Vacation" is the sequel that you always fear will happen from any great film, and this is no exception. After winning a family trip to Europe on a family game show, the Griswold's set out on yet another family vacation where slapstick and bad humour ensues. Yes, I barely laughed during this film, and when I did it was out of pity. Chevy Chase and the rest of the cast give it their all, but most of the gags feel extremely forced to the point that you don't even really care about the characters most of the time. In the end, this is just another slapped together comedy sequel to make a quick buck at the box office. Lazy, poorly scripted, and falling into one cliche after another, "European Vacation" is the sequel I would recommend staying very far away from, even if you like the others. What a disappointing sequel!
European Vacation manages to be a mediocre comedy to a great film by basically recycling ideas explored in the first film and watering them down and in the process the film suffers from being a tedious unfunny follow-up that could have been so much better than what we got. Vacation was a great film, and they tried to recapture that vibe by navigating similar territory and not exploring fresh, new ideas. Sure, the setting is different but the humor is the same, except now, it's watered down pointless and simply predictable. I really was hoping that the film was going to be good, but overall, European Vacation is a bland, mediocre comedy that simply isn't worth your time. I8f you're expecting something like the original movie, you'll sadly be disappointed. The film had plenty of potential of being a memorable affair, but it never takes off, instead it suffers the same thing that many sequels have failed to do, capture the vibe of the original. Of the three Vacation sequels that have been made, only one film has succeeded, and it's the follow up to this film, Christmas Vacation. That film completely reinvented the formula and they succeeded at crafting something truly great and as amusing the original 1983 film. I think that one sequel sufficed in this series, and Christmas Vacation was the only one that should have been made. This film leaves way too much to be desired and you're left wanting more out of the movie. European has a few moments that are kind of funny, but it's never enough to satisfy the viewer, and in the end you realize how bland this film is.
½
The Griswolds are back, and this time they set their sights on Europe after winning a family feud-style game show. Chevy and Beverly are back, but this time their kids are played by Jason Lively and Dana Hill. I think I'd liked the previous two better, but these two do okay I suppose. This is a big step down from the first, but it's still a fun, goofy movie in its own right. It seems more reliant on formula, and doesn't really break any new ground, but it was surprising to see just how raunchy they made it, and still managed to get away with less than an R-rating. This one seems a tad more dated and not as memorable as the first, but yeah, it's still really funny and entertaining, so give it a go.
Chris Weber
Super Reviewer
National Lampoon's European Vacation Quotes