National Lampoon's Loaded Weapon 1
(1993)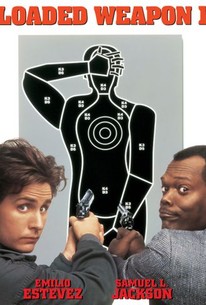 TOMATOMETER
AUDIENCE SCORE
Critic Consensus: Loaded Weapon 1 hits all the routine targets with soft squibs, yielding a tired parody that cycles through its laundry list of references with little comedic verve.
National Lampoon's Loaded Weapon 1 Photos
Movie Info
The Lethal Weapon series and the rest of the buddy-cop genre receives the parody treatment in this low-brow comedy. Emilio Estevez stars as Jack Colt, the Mel Gibson-like loose cannon, while Samuel L. Jackson assumes the Danny Glover role as Wes Luger, his exasperated partner. Together, Colt and Luger investigate the murder of Luger's former partner (Whoopi Goldberg) and discover a criminal conspiracy led by the nefarious General Mortars (William Shatner). Hoping to mimic the success of the Naked Gun films, director Gene Quintano (of Police Academy 4 fame) loaded the film with broad visual gags, deadpan slapstick, and gratuitous parodies of The Silence of the Lambs, Basic Instinct, and other movies. The attempt to mimic successful parodies proved ineffective, however, as critics and viewers alike found the parody stale and the juvenile humor dreary.
News & Interviews for National Lampoon's Loaded Weapon 1
Critic Reviews for National Lampoon's Loaded Weapon 1
Audience Reviews for National Lampoon's Loaded Weapon 1
Gene Quintano brings out the senseless comedy in National Lampoon's Loaded Weapon 1.
Riding the coat tails of Lethal Weapon and turning upside down, inside out, and sideways, this 75 minute comedic feature entertains more than it annoys.
The humor is slapstick and over the top. The constant barrage of comedy antics require little to no thinking and is easily relatable, and not just focusing on sexual and racist remarks.
Emilio Estevez and Samuel L. Jackson deliver their over-acting performances in fitting style of this picture. William Shatner, Tim Curry, and Kathy Ireland are notable cast members.
Loaded Weapon 1 gets the most out of its humor and is a quick relaxing sit through.
½
This may be old, this may be cheesy, and this may be a parody, but this has got to be one of the most insanely funny films I have seen! When you stick Samuel L. Jackson in anything, it tends to be good, and in this situation, it was amazing! There are ridiculous references to so many classic films such as Silence Of The Lambs, Wayne's World, Die Hard, and, of course, Lethal Weapon. There's not much to say when it comes down to the story: cop's partner dies (in a ridiculous way), cop annoyed, cop paired up with a rookie, pair try to take down a corporation trying to spread cocaine in cookies, the usual! What I find best about this film is the cameos from people like Charlie Sheen, and the amazingly comical lines, rip-offs and jokes that come out time after time, after time. For those people, however, that do not find much to films such as Scary Movie, or Superhero Movie, stay well away from this film. If not, then please, welcome aboard, and let the film's total randomness entice you and take you on a hysterical journey...
BG Movie Reviews 2011
Super Reviewer
Second-rate spoof flick with an embarrasingly low laugh count. I really wanted to like this, but with all the clumsy directing and even worse writing, it's more like the 90's equivalent of a Seltzer & Friedberg movie. Jokes need to be witty and rapid in order to work within the parody realm, and here they are neither. I might have been better if they had given the lead role to Charlie Sheen. But instead he just gets a small cameo, while his lesser-talented brother Emilio takes up most of the screen time. A watchable "comedy" overall, but if you were to ask for my advice, I'd suggest you take a pass on it.
National Lampoon's Loaded Weapon 1 Quotes
| | |
| --- | --- |
| Jack Colt: | She'd tease me with it, then give me the bottle. |
| | |
| --- | --- |
| Mr. Jigsaw: | Wilderness girls! |
| | |
| --- | --- |
| Wes Luger: | Don't look, just play it cool....I'm gonna try and lose em'. |