National Lampoon's Van Wilder
(2002)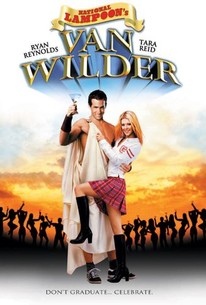 National Lampoon's Van Wilder Photos
Movie Info
The "National Lampoon" franchise is resurrected for another politically incorrect collegiate romp with this R-rated gross-out sex comedy. National Lampoon's Van Wilder revolves around the exploits of its title character (Ryan Reynolds), a seventh-year senior who's made it his goal in life to help each and every Coolidge College undergrad succeed in life -- or at least in bed. Van's charmed life seems to have an expiration date, however; his father (Tim Matheson) has cut off his presumably vast allowance. Financial insecurity doesn't phase the big man on campus, and he soon starts up a lucrative cottage industry as a planner of high-priced campus blowouts. When an enterprising reporter from the college paper gets wind of Van's liberal interpretation of the school's code of conduct, it seems his gig is up -- unless, of course, he can charm the hard-edged Gwen (Tara Reid) into accepting his uniquely skewed world view. In addition to Matheson, Van Wilder features cameos from a number of '80s teen movie stalwarts, including Edie McClurg, Paul Gleason, and Erik Estrada.
News & Interviews for National Lampoon's Van Wilder
Critic Reviews for National Lampoon's Van Wilder
Audience Reviews for National Lampoon's Van Wilder
½
Van Wilder is a decent little teen comedy with a fairly decent cast. Some of the plot has been recycled from better films, but it is mildly entertaining, but in the long run is a very forgettable film that is not worth rewatching or demands multiple viewing. National Lampoon's films by the early 2000's were becoming mediocre to decent, but Van Wilder isn't a bad film, it just isn't a good film either. I thought it had its moments, but never goes above what it should have been. If you're going into this film expecting another Animal House, you'll sadly be mistaken. The film boasts some laughs here and there, and Ryan Reynolds, who I find to be not too bad in terms of acting, makes the film quite enjoyable. There was plenty of room for improvement and considering that National Lampoon has some terrific comedies under their belt, the material could definitely be better. I think that Van Wilder leaves a lot to be desired and it could have been rewritten a few times in order to really make it a stand out feature. Walt Becker's direction is pretty good considering the so-so material. Expect to be mildly entertained by this one; however don't expect anything memorable as this one just doesn't hold like others like Animal House and Porky's. But it does provide decent comedic material even if it's not that good of a movie. Van Wilder is worth seeing once for what it's worth. The film does leave a lot to be desired and you are left wanting more out of the movie.
An unabashed attempt to resurrect the Animal House franchise ... w/o the huevos rancheros to do so. Meh.
Kevin M. Williams
Super Reviewer
Flixter deletion? Not quite a classic, but Ryan Reynolds is in this role. Great plot and a lot of funny moments.
Lenny Muggsy
Super Reviewer
National Lampoon's Van Wilder Quotes
| | |
| --- | --- |
| Richard Bagg: | Damn it, Gwen, pick it up. I know you're there. You know I have my Northwestern interview next week. Look, I need you to help me "release"... some pressure. You know, help me "relax. " Just so we're clear, I'm talking about intercourse. I know you had a fling with Wilder. And it's okay. You just had to get it out of your system. I just hope you used some protection. And I wouldn't want our future children to be tainted because Mommy went slumming one night back in college. |
| Richard Bagg: | Damn it, Gwen, pick it up. I know you're there. You know I have my Northwestern interview next week. Look, I need you to help me 'release'... some pressure. You know, help me 'relax.' Just so we're clear, I'm talking about intercourse. I know you had a fling with Wilder. And it's okay. You just had to get it out of your system. I just hope you used some protection. And I wouldn't want our future children to be tainted because Mommy went slumming one night back in college. |
| Gwen Pearson: | Why don't you go "release" your own pressure? And just so we're clear, I'm telling you to go fuck yourself!. |
| Gwen Pearson: | Why don't you go 'release' your own pressure? And just so we're clear, I'm telling you to go fuck yourself! |
| | |
| --- | --- |
| Van Wilder: | you shouldn't take life too seriously. you'll never make it out alive |