National Treasure: Book of Secrets
(2007)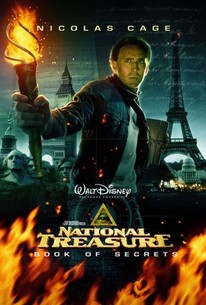 TOMATOMETER
AUDIENCE SCORE
Critic Consensus: A talented cast goes to waste in the improbable National Treasure: Book of Secrets, which is eerily similar to the first film.
National Treasure: Book of Secrets Videos
National Treasure: Book of Secrets Photos
Movie Info
In this adventure-filled sequel to the 2004 blockbuster National Treasure, Nicolas Cage reprises his role as artifact hunter and archaeologist extraordinaire Ben Franklin Gates. In this outing, Gates learns of his own family's implication in the assassination of Abraham Lincoln by John Wilkes Booth. Gates must then locate an elusive diary, not only to clear his family's name, but to unearth and connect several secrets, buried within the book, that point to a massive, global conspiracy. The film co-stars Jon Voight, Harvey Keitel, and Helen Mirren as Ben's mother. Jerry Bruckheimer returns as producer. ~ Nathan Southern, Rovi
Critic Reviews for National Treasure: Book of Secrets
Audience Reviews for National Treasure: Book of Secrets
I'll be honest I can't remember the first very much but I did quite like this. The cast is very good for just a silly film, Jon Voight, Ed Harris, Harvey Keitel and Cage...impressive. The film is really a kind of filler for the absence of 'Indy 4' or any Indy films really, and lets be honest its nowhere near as good but it is fun. The story is silly as hell again, all revolving around the history of the US and its founding fathers. The cast do make it seem greater than it is for sure, the film is also allot funnier than the first I think, its quite humorous throughout and this actually adds and doesn't detract from the film. All the action set pieces are not really any different from any other movie and the final sequence inside some caves near Mount Rushmore seems to be ripped straight out of 'The Goonies', but the whole boys mystery and adventure setup is always good fun and light hearted, harking back to older cinema romps in black and white. These type of films do have a nice pleasant charm to them, no excessive violence or swearing just good old fashioned treasure hunting, just one thing, what on earth is happening to Nic Cages hair?
Phil Hubbs
Super Reviewer
I hate that this film is the exact same film as the first, but it's still fun. A bit sillier at times and slightly more unbelievable, but still a fun ride. Although I have no desire to buy this DVD ever, anytime the movie comes on TV, I normally watch it simply because it's entertaining.
Jameson Worley
Super Reviewer
Nicholas Cage + Jerry Bruckheimer = Peanut butter and jelly. But would you want to eat that as a staple of your diet? Me Neither. However, there comes a time when such a sandwich would hit the spot. I'm drunk and I'm watching National Treasure 2. It's silly, crazy bullshit, but dammit, I'm having fun. I bet children would love this movie and if ever I have any, I will be sure to pass this along.
Emily Armstrong
Super Reviewer
National Treasure: Book of Secrets Quotes
| | |
| --- | --- |
| Riley Poole: | There's my tax dollars at work... coming to arrest me! |
| | |
| --- | --- |
| Ben Gates: | "You are the President of the United States, sir. Whether by innate character, the oath you took to defend the Constitution, or the weight of history that falls upon you, I believe you to be an honorable man, sir." |
| Ben Gates: | You are the President of the United States, sir. Whether by innate character, the oath you took to defend the Constitution, or the weight of history that falls upon you, I believe you to be an honorable man, sir. |
| The President: | "Gates, people don't believe that stuff anymore." |
| The President: | Gates, people don?t believe that stuff anymore. |
| The President: | Gates, people don't believe that stuff anymore. |
| Ben Gates: | "They want to believe it." |
| Ben Gates: | They want to believe it. |