National Velvet
(1944)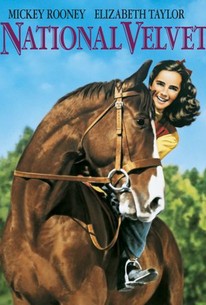 TOMATOMETER
AUDIENCE SCORE
Critic Consensus: National Velvet makes the most of a breakout performance from Elizabeth Taylor, delivering a timeless family-friendly tearjerker that avoids straying into the sentimental.
Movie Info
Although National Velvet was the first starring role for 11-year-old Elizabeth Taylor, the early part of the film belongs to Mickey Rooney in the showier role of Mike Taylor, a headstrong English ex-jockey. Soured on life by a serious accident, Mike plans to steal from the country family that has taken him in, but his resolve is weakened by the kindness of young Velvet (Taylor). The two find a common bond in their love of horses. Velvet wins an "unbreakable" horse in a raffle, and enters the animal in the Grand National Sweepstakes. Though Mike is unable to ride the horse, he aids Velvet in her plan to disguise herself as a jockey; she wins the race...but the story isn't over quite yet. Co-starring as Velvet's mother is Anne Revere, who won a Best Supporting Actress Oscar for her performance. National Velvet is based on the novel by Enid Bagnold. ~ Hal Erickson, Rovi
Critic Reviews for National Velvet
Audience Reviews for National Velvet
½
There is a curiosity in seeing Liz Taylor as a child actor and Mickey Rooney is always a delight but this film is pure kids' play. Nothing terribly memorable.
John Ballantine
Super Reviewer
½
A giant cup full of feel good. Mickey Rooney and Elizabeth Taylor, two of the greatest child actors to grace the silver screen, are put together to make one of the more beautiful of trainer-athlete pairings on screen. Anne Revere as the incomparable Mrs. Brown gained an Oscar for her role, and rightly so. Watch with family, because that's what thje movie's about. That and the Pie.
Spencer S.
Super Reviewer
½
A warm and fuzzy family film about a young girl's love of her horse and her pursuit of a win at the Grand Nationals horse race. This stars an incredibly beautiful 12-year old Elizabeth Taylor, Mickey Rooney, and Donald Crisp as the curmudgeonly but lovable father, Mr. Brown. There are some scenes that are TOO coincidental, such as how Velvet (Taylor) acquires the horse to begin with, and how the results of the race are decided. Why take the long way around? We know she's going to win the horse or we'd have no movie. Why tiptoe around the obvious? The race itself, consisting of jumps over hedges and ditches, is breathtaking. A number of horses don't complete the jumps, jockeys are thrown or fall from their horses, and the recording of this event makes you feel you're actually there. Kind of a Ben-Hur feel to it in some ways. Mickey Rooney was a hugely talented actor as a child, and he doesn't disappoint here. He is by turns sweet or bossy or calculating or afraid. He has a wonderful series of scenes with character actor Arthur Treacher as they watch the race progress. I've always found Elizabeth Taylor's early performances a little too saccharine for my tastes, but she has a glow in her face and her voice that you can't help but be drawn to. Small children, especially horse-obsessed little girls, will like this, and it's good enough that adults won't be pulling their hair out while watching it. The main theme at the time was probably about going after your dreams, and it is that. But Velvet's talk with her mother (Anne Revere) about those dreams also holds a feminist message -- that women can do anything men can do. What better message could there be for little girls?
National Velvet Quotes
| | |
| --- | --- |
| Edwina Brown: | â??Weâ??re alike. I, too, believe that everyone should have a chance at a breathtaking piece of folly once in his life. I was twenty when they said a woman couldnâ??t swim the Channel. Youâ??re twelve; you think a horse of yours can win the Grand National. Your dream has come early; but remember, Velvet, it will have to last you all the rest of your life.â?? |
| Edwina Brown: | We're alike. I, too, believe that everyone should have a chance at a breathtaking piece of folly once in his life. I was twenty when they said a woman couldn't swim the Channel. You're twelve; you think a horse of yours can win the Grand National. Your dream has come early; but remember, Velvet, it will have to last you all the rest of your life. |
| | |
| --- | --- |
| Edwina Brown: | That'll be a dispute to the end of time, Mr. Brown, whether it's better to do the right thing for the wrong reason or the wrong thing for the right reason. |