The Nativity Story
(2006)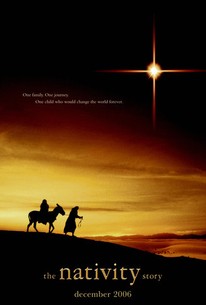 The Nativity Story Photos
Movie Info
"The Nativity Story" portrays a chronicle of the perilous journey of a young couple, Mary and Joseph, who must travel from their home in Nazareth to Bethlehem, Joseph's ancestral home, to register for a census ordered by King Herod. It is a journey of over 100 miles, through treacherous terrain, made much more difficult by the fact that Mary is nine months pregnant
News & Interviews for The Nativity Story
Critic Reviews for The Nativity Story
Audience Reviews for The Nativity Story
½
I wasn't sure what to really expect from this, especially given how I was hesitant to ever see it...and that was before I knew who Catherine Hardwicke was, and way before Twilight. I finally sat down and watched it (not much better to do when one can't sleep a day or two after Christmas)..truth is...this actually isn't too bad. It's not a great movie, but it's decent enough, and worth a watch once in a while. Tjis is actually a quite faithful and thoughtful take on the story of the birth of Jesus Christ. It's powerful, and moving, and all of that sentimental stuff, but that doesn'ty take away from the fact that even then, it's got some good camera work (although I wish the film didn't look so washed out), okay performances, and is very accessible. Also, there's a lot of great anthropological/cultural/historical type stuff on display, and not only is it done well, I was surprised it was there (in a good way). This is no masterpiece, but it does the story justice.
Chris Weber
Super Reviewer
½
Christmas Move Review Mania Episode #1: The Nativity Story It's the last day of November and people around the world are preparing for the Christmas season. I am to and welcome to Christmas Movie Review Mania! I will be writing reviews of Christmas movies up until the big day. This won't be a daily thing. To start off, I will review a film that promotes the true meaning of Christmas: The Nativity Story. The film is a retelling of Mary and Joseph story. Despite the fact that Mary is a virgin, God makes her the mother of Jesus Christ. Her and her arranged husband, Joseph travel to Bethlehem in order to pay their taxes and give birth to the child as well. Meanwhile, the Wise Men are on their way to meet the child and King Herod make a plan to massacre baby boys and the Son of God himself. The cinematography is amazing and realistic and Catherine Hardwickes's direction (she also helmed Twilight) is wonderful. The acting is good. I don't see why many critics hated it. Mary's actress added much emotion into her character. Oscar Isaac was awesome as Joseph. The supporting cast delivers as well. A beautiful film that everyone needs to see this season. I mean it! "I wonder if I will even be able to teach him anything."
Bentley Lyles
Super Reviewer
this film has not been well recieved, but it was powerful. there were a few small inaccuracies as far as consitency to Scripture, but the film was well made and well played. I'll watch this every Christmas from now on.
The Nativity Story Quotes
There are no approved quotes yet for this movie.