The Natural
(1984)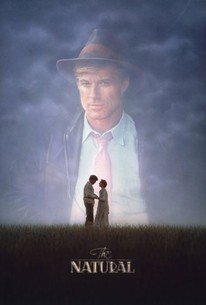 TOMATOMETER
AUDIENCE SCORE
Critic Consensus: Though heavy with sentiment, The Natural is an irresistible classic, and a sincere testament to America's national pastime.
Movie Info
Nothing was going to stop Roy Hobbs from fulfilling his boyhood dream of baseball superstardom. 14-year-old Hobbs fashions a powerful bat from a fallen oak tree. He soon impresses major league scouts with his ability, fixing his extraordinary talent in the mind of sportswriter Max Mercy, who eventually becomes instrumental in Hobb's career. But a meeting with a mysterious woman shatters his dream. Years pass and an older Hobbs reappears as a rookie from The New York Knights. Overcoming physical pain and defying those who have a stake in seeing the Knights lose, Hobbs, with his boyhood bat, has his chance to lead the Knights to the pennant and to finally fulfill his dream.
Critic Reviews for The Natural
Audience Reviews for The Natural
He lived for a dream that wouldn't die. Saw it again! Probably one of the best baseball movies ever made. Robert Redford nail his role as Roy Hobbs, amazing talent! Wicked story! Everything about this movie appears authentic. From the time period, to the baseball scenes. These guys really look like a baseball team. A touching story, without being hokey. You get the feeling you are watching something mystical and magical along with all the characters in the movie, and it is played with just the right note. Thrilling and inspiring. A well-made, well-acted film. Loved the end, one of the best endings ever! An unknown middle-aged batter named Roy Hobbs with a mysterious past appears out of nowhere to take a losing 1930s baseball team to the top of the league in this magical sports fantasy. With the aid of a bat cut from a lightning struck tree, Hobbs lives the fame he should have had earlier when, as a rising pitcher, he is inexplicably shot by a young woman.
I won't call The Natural a bad movie but that doesn't mean I'm going to say that it lives up to its almost mythic status as a truly great movie. Robert Redford is likable and despite some weird aspects of the story (Barbara Hershey and Kim Basinger's bad luck superpower in general) you like him and you root for him. Despite the over 2 hour running time it feels like another 15 or 20 minutes could've smoothed some rough edges out. The mystery behind Roy Hobbs was kind of anticlimactic (I was ALMOST hoping he'd be a ghost or an angel or something.) The "bad guys" were either an unlikable shade of unlikable or just downright creepy (Darren McGavin and his glass eye.) Not great, not awful, but that final home run was pretty wild...
Michael Gildea
Super Reviewer
½
I remembered this being a childhood favorite, but I hadn't seen it for a long time. It has even gotten better with age, being such a classic example of a true American Dream. Robert Redford really did a great job as Roy Hobbs, a character that has your heart from the moment he appears onscreen. The story is extremely well told with a truly beautiful late thirties backdrop. You don't have to be a baseball fan or a sports fan period to love this movie and feel a sense of attachment to it, that's how strong it is.
Conner Rainwater
Super Reviewer
The Natural Quotes
| | |
| --- | --- |
| Roy Hobbs: | Fred, it took me 16 years to get here. You play me, and you'll get the best I've got. |
| | |
| --- | --- |
| Pop Fisher: | It's the right thing to do. |
| | |
| --- | --- |
| Gus Sands: | your missing the whole point kid i already did |
| Gus Sands: | You're missing the whole point kid, I already did. |
| | |
| --- | --- |
| Bump Bailey: | [after failing to catch a fly ball] I lost it in the sun. |
| Pop Fisher: | [looks up at the cloudy sky] Blinding. |