Nausicaä of the Valley of the Wind (Kaze no tani no Naushika)
(1985)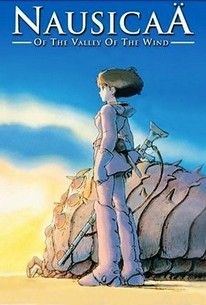 Movie Info
This impressive work from acclaimed Japanese director Hayao Miyazaki represents a significant departure from traditional anime. Foregoing the gritty storylines, extreme violence, and adult content found throughout many anime, Miyazaki's works borrow as much from fairy tales as they do from science fiction. Nausicaa of the Valley of Wind is no exception. Centuries after war has devastated the earth, Princess Nausicaa leads the people of the Valley of the Wind. Feuding clans fight with planes and tanks as well as swords in a world that is both primitive and futuristic. In addition to her people's conflicts with other factions, Nausicaa must also contend with the insects of the jungle including the Ohmu, a race of giant, intelligent bugs that poisons the surrounding atmosphere - and is spreading rapidly. The setting of this 1984 animation owes much to the post-apocalypse genre spawned by Mad Max and other films, and the political subplot is often compared to Frank Herbert's Dune. However, the heroine here has more in common with the female protagonists of the Disney musicals such as Pocohantas and Mulan; Nausicaa is more concerned with harmony and communication than with conquest and revenge. Sympathetic to the Ohmu, she learns she must approach them with understanding to achieve peace and restore the dying world. This film is beautifully animated and written, and the moral to this ecological fable is difficult to miss. The film was dubbed into English in the mid-2000s, hence the presence of such actors as Shia LeBoeuf, who wasn't born yet when the film was originally made. ~ Jonathan E. Laxamana, Rovi
Critic Reviews for Nausicaä of the Valley of the Wind (Kaze no tani no Naushika)
Audience Reviews for Nausicaä of the Valley of the Wind (Kaze no tani no Naushika)
A grim and powerful epic that boasts an inventive, visually rich universe and an ecological message that only gets more and more relevant in our times - and it's wonderful to see a brave princess who fights to save her world with the fearlessness of a warrior.
Carlos Magalhães
Super Reviewer
Hayao Miyazaki's second feature (based on the first two volumes of his own manga) and often considered Studio Ghibi's debut despite being produced before it's formation. It might as well be considered part of the Ghibli cannon since this is where Miyazaki's signature style finally came into focus. All the familiar themes and tropes of his works are present: strong female leads, environmental themes, Miyazaki's love for planes, absence of traditional villains (every character has a morally sympathetic motivation), and his unique sense of epic grandeur. The animation is a bit rough around the edges but it is still breath-taking even by today's standards; the awesome plane battle, the herd of giant mutant insects, the graceful scenes of Nausicaa effortlessly gliding through the air, and the sequence involving a super weapon known as "The Giant Warrior" are the definite highlights. Nausicaa is a decent protagonist because she is very mature for her age and possesses a deeper understanding for the world than even the adults. She may come off as a bit too perfect or complainy at times but nevertheless you sympathize with her as she tries to protect her people, who are caught between an awfully chaotic three-way war. One of Miyazaki's biggest talents is being able to draw you into the film's universe with an eye for detail and organic characters that seem to jump out of the screen (a lot of the times, Miyazaki's animated characters come off as more real than even people in live-action films). The post-apocalyptic setting is suitably dreary but the charming array of relatable characters and subtle humorous moments gives the film tender charm, making it perfect for audiences both young and old. Despite it's heavy handed environmental subtext (that becomes just plain text at times) and Miyazaki telling a similar story in the much superior 'Princess Mononoke', this post-nuclear war fable is an epic movie that is still worth seeing. We wouldn't have gotten all the other wonderful works of Miyazaki and Studio Ghibli if it weren't for this flick.
Christopher Heim
Super Reviewer
½
a fantastic fantasy story set in a very compelling world with fantastic characters. as usual the animation is stellar for this pre-ghibli film, and the effect that the story has on the viewer runs deep. one of the most fluid of miyazaki's films.
Nausicaä of the Valley of the Wind (Kaze no tani no Naushika) Quotes
There are no approved quotes yet for this movie.