'Neath Arizona Skies
(1934)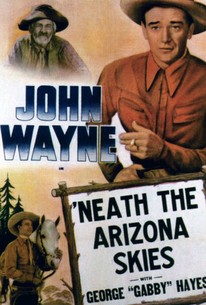 AUDIENCE SCORE
Critic Consensus: No consensus yet.
'Neath Arizona Skies Photos
Movie Info
John Wayne is back in another of his "Lone Star" western series. Once again, Wayne plays a wandering cavalier who reveals himself to be a federal marshal in the final footage. This time, he comes to the rescue of orphaned Indian girl Nina (played by former "Our Gang" member Shirley Jean Rickert), the heir to an oil fortune. To thwart the bad guys, he disguises himself as an outlaw, briefly earning the disdain of heroine Clara Moore (Sheila Terry). The usual "Lone Star" supporting players George Hayes and Yakima Canutt are here joined by Jay Wilsey, who enjoyed brief fame in the late-silent era as cowboy hero Buffalo Bill Jr.
Critic Reviews for 'Neath Arizona Skies
Audience Reviews for 'Neath Arizona Skies
½
This came from the Mill Creek Western Legends 50 Movie Pack Collection, One must remember this film was made 79 years ago, Thats is a powerful statement. Average Wayne-Lone Star matinée special. Chris (Wayne) is trying to secure oil money for fatherless Indian girl Nina (Rickert). Sam Black (a good name for bad guy Canutt) and his gang are trying to kidnap the girl and hijack the money. Nothing exceptional here, other than some good outdoor action and a clever Canutt-devised stunt with rope and a tree. For fans of Gabby Hayes, his likably grouchy character is almost complete. For me, the highlight was seeing Lone Star regular Earl Dwire actually play a good guy (Tom) for once. With his considerably less than handsome features, he fits the bad guy stereotype. So his role here amounts to a welcome departure showing that you don't have to look like a Wayne to play a good guy. Fairly scenic locations, not the Sierras unfortunately, but not the treeless LA scrublands either. Strikingly pretty Sheila Terry as Clara doesn't have much to do other than ride horseback in a dress, no less, and with the boys. Note the plunge off the cliff into the water. This was a popular stunt of the time and a fittingly dramatic end to a chase sequence. I can't tell whether this one is a stock shot from another film or not. But, never mind, since it's a grabber anyway. All in all, an entertaining 50 minutes, but nothing special. 2 1/2 Stars 10-16-13
Bruce Bruce
Super Reviewer
'Neath Arizona Skies Quotes
There are no approved quotes yet for this movie.