Neds
(2011)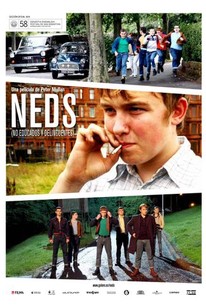 Movie Info
John McGill is a promising student at a tough Glasgow school who, despite a family background of alcoholism and abuse, looks set to sail into university and a bright future beyond. That is, until things begin to go wrong at school and John, like his older brother before him, slips into the heady and dangerous world of Glasgow's gangland.
Audience Reviews for Neds
½
A rough and tumble tale of how a bright boy can fall from grace through no obvious fault of his own, forced to go it alone in an environment where gangs of dead-end, aimless boys rule the streets. I thought the hero, John, was inconsistently characterized, but overall, for a movie with an evident message, I thought this was very good, and it even got away with a surreal twist toward the end. Solid, down-in-the-dirt, believable film-making.
Daniel Perry
Super Reviewer
A young Scot descends from intellectualism to the brutality of street gangs in the early 70s. I think there's no doubt that there's a sense of realism to this portrayal of street life in Scotland. But what motivates the protagonist as he oscillates between his two identities - street tough and bright student - remains a mystery throughout the film. It creates an uneven quality to the character and the film as a whole. However, the performance by Conor McCarron is fantastic, and some of the details, like Mr. McGil's "I want you down here" screams and the scenes of violence, scream verisimilitude. The story avoids cliches by creating a sense of ambivalence on John's part. Overall, watching Neds is an intense and ultimately rewarding experience even if one never quite gets to know what makes these characters tick or where they're going after the film is over.
Jim Hunter
Super Reviewer
Even after graduating primary school with all sorts of honors and awards, young John McGill(Greg Forrest) finds moving on to the next level no easy task, what with Canta(Gary Milligan) threatening him with bodily harm. Well, that's what big brothers are for, especially one as feared as John's brother Benny(Joe Szula) who takes care of the problem very efficiently. Sadly, John's headmaster thinks he will follow in his brother's footsteps, deciding not to place him in the top class like he feels he deserves. In any case, it takes John just a few months to prove him wrong. As a teenager, John(Conor McCarron) continues to get good grades on the way to university. And then... With his latest film, "Neds," Peter Mullan(he also has a small role as John's abusive father) takes his fimmaking to another level visually to complement the power of his words, with an ending that is more metaphorical than anything else. In fact, there are no speeches in this exploration of the working class teen culture of 1970's Glasgow. The central question is if somebody as smart as John cannot escape, then is there any hope for anybody else?(In an early scene, I get the feeling that his Aunt Beth(Marianna Palka) was wondering if she could smuggle him in her suitcase back to America.) As somebody who is vulnerable, John is corrupted by the allure of violence and power when hanging out with other kids in his neighborhood, without measuring the consequences. At the same time, the teachers here show little interest except keeping order.(To be honest, they teach Latin which I've never gotten close to learning.) There are signs of change over time, but none come close to challenging the local class order.
Neds Quotes
There are no approved quotes yet for this movie.