Needful Things
(1993)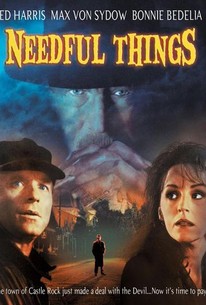 Movie Info
Based on a novel by horror-meister Stephen King, Needful Things is set in a tiny New England town and refers to the name of a new second hand shop that is owned by a peculiar old man who, instead of demanding money to pay for his goods, requires that customers play practical jokes on each other. It doesn't take long before simple pranks take a serious and deadly turn and soon the townsfolk are hell-bent on destroying each other while the curio shop owner looks on with devilish amusement.
Critic Reviews for Needful Things
Audience Reviews for Needful Things
Could you imagine having a store where you can get just what you really need? But then it turns out to be evil? Awesome, right? Watch this movie, based on a King novel, it's really cool, and I highly recommend it.
Ed Harris did a good job. ... ...
Sophie Burgess
Super Reviewer
Disappointed to say the least. I've not read the book but I'm a big fan of Stephen King and so many of his stories have gone on to be great films....despite what a lot seem to think? This is very average though and pretty straight forward. A good cast line up with a lot of well known faces, now if not back in '93. Apparently a lot has been left out from the book as well. One for die hard fans maybe.
Needful Things Quotes
There are no approved quotes yet for this movie.