Needle
(2010)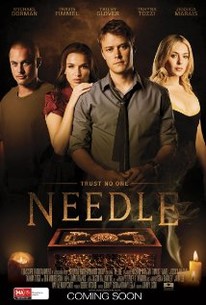 AUDIENCE SCORE
Critic Consensus: No consensus yet.
Movie Info
A killer uses an 18th century machine with supernatural powers to terrorize students at Saint Mary's College.
Critic Reviews for Needle
All Critics (3) | Fresh (3) | Rotten (0) | DVD (1)
While it may not be innovative or stylistically impressive, this modest horror flick still delivers decent scares.
Taking a fresh twist on the college campus serial killer sub genre of horror, John V. Soto delivers an engaging and well executed supernatural thriller in which mechanical voodoo (not the hip hop band) is the weapon of choice for the killer
To the film's credit, it lacks the smug self-awareness that predominates the modern teen horror genre, but that commitment to integrity gives Needle a retro familiarity that the key demographic may find a little too quaint.
Audience Reviews for Needle
Why can't Australians just be Australian?
Here's my review via my blog https://multiscreenmotivision.wordpress.com/2015/02/19/sewing-suspense-and-horror-with-needle/
Kym (c my community profile) Ragarsson
Super Reviewer
Teen-type horror thats not as shit as i thought it'd be. A student gets left some random old machine and doesn't know what to do with it but it seems to have a dodgy past so when it gets stolen you know whats going to happen! Yes, its an ancient device used for killing people in horrible ways and now its being used to kill a group of friends at the students uni. Although the set ups familiar the use of machine type shit isn't so Needle deserves credit for that. Plus theres some gore and a few hot women including a couple of lesbians so as far as teen horrors go, Needle's not bad.