Negocios Sucios
(2002)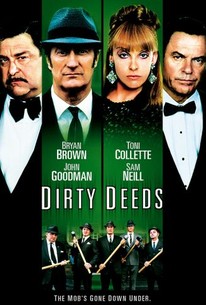 Movie Info
Un gángster prominente de Australia (Bryan Brown) que es el propietario de un negocio de máquinas de póker, se ve amenazado por un capo rival de Chicago que envia a dos de sus matones para investigar cómo hacerse con el poder de su negocio. Toni Collette, John Goodman, Kestie Morassi, Felix Williamson. Director: David Caeser.
Critic Reviews for Negocios Sucios
Audience Reviews for Negocios Sucios
Decent idea but the script lets it down.
Thomas Bowler
Super Reviewer
This was an ok movie. Was really tired while watching it but I didn?t fall asleep!! So that?s a good thing! Sam Worthington plays Darcy who just gets sent on some R & R by the Australian Army, Who?s Uncle Barry is the Gangster I speak of. He?s pretty much the messenger, go for however you put it. Typicaly cheats on his wife with the younger Margaret (I think) , & of course nephew & the little home wrecker hang out together. There?s action but not a lot. Some shootin some ?PIZZA? making (well trying on Darcy?s part) LOL I think the Pizza ?gags? were funny. Some of that stuff didn?t look edible! Let?s just say when we say a pizza pie.. they took it literally there! Like I said ok. I guess just enough action in the right spots to keep me awake (cause I fell asleep right after lol) a few cool actors. (Goodman, Worthington, Sam Neil as well) Nothing in it really impressed me (however LOVE Sam in the Army uni!!) C
Kym (c my community profile) Ragarsson
Super Reviewer
Negocios Sucios Quotes
There are no approved quotes yet for this movie.