Neighbor
(2009)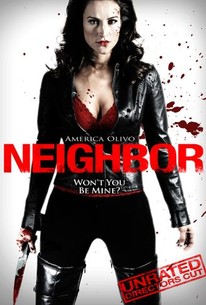 AUDIENCE SCORE
Critic Consensus: No consensus yet.
Movie Info
Neighbor cleverly flips the gender roles of classic exploitation cinema staples, giving us a lone woman who terrorises a series of mostly very frightened and defenceless men. Love thy neighbour? Depends on where your pain threshold lies. If you couldn't handle the last act of Takashi Miike's Audition, this isn't the film for you; we can't imagine finding a nastier film this year. It's character-driven, mind you, unlike the so-called 'torture porn' wave. Neighbor is an astonishing modern Grand Guignol masterpiece.
Critic Reviews for Neighbor
There are no critic reviews yet for Neighbor. Keep checking Rotten Tomatoes for updates!
Audience Reviews for Neighbor
"You've no idea where I've been". I personally am not a huge fan of the "torture porn" genre as it stands and this movie is torture porn, pure and simple. Here America Olivo makes you rethink the perception of the "fairer sex" and will make you think twice if you're in the dating market. She does a wonderful imitation of becoming the sadistic Neighbor who morphs from seductive siren to cold brutal sadist in a heartbeat, showing no remorse, giving no explanation and is genuinely creepy in this movie. The torture scenes are brutal and gut wrenching and there are too many to get into, but writer/director Masciantonio will leave these scenes imprinted on your brain making you cringe with every horrific shot. Meanwhile Special effects\make-up honcho Vincent Guastini takes gore to a new level with his hyper-real mastery of the makeup. Think Fatal Attraction meets Hostel...with a bit of the ultra violence thrown in for good measure. Unfortunately there is no plot development, we don't connect with any of the characters, they only exist to be killed by "The Girl" and we have little inkling of why she is even killing to begin with. Not sure why they called it "Neighbor", either.
Neighbor, from Robert A. Masciantonio, excels on too few levels to be successful.
The film runs under 90 minutes, but with a paper thin plot it doesn't feel that brief. The introduction serves as a good snare; however, there isn't much to gain after that. The story never goes anywhere interesting and aside from the lead, the character buildups lack any amusement, which ends up making them unlikable.
So where does this film succeed? The savagery. The gore factor is extreme and the violence is merciless, while the makeup effects intensify everything even more. There is even a portion in the middle of the film where the story seems to wander aimlessly just to create moments for extra bloodshed.
America Olivo is the only person worth noting. Her performance as the terrorizing antagonist is gratifying. She pulls off the crazy without going annoyingly bonkers. It's just too bad she finds herself in this movie. Everyone else in the film is completely forgettable.
Neighbor succeeds when it comes to straight up violence. As a recommendable film, it fails. "You're fired!"
Though the blood and gore were very realistic, and the acting was pretty decent, that still doesn't make up for the shitty writing and useless plot. Some things the characters said in the movie was just so stupid. Like I couldn't imagine anyone saying that in real life. I'd give examples, if I could remember any. The plot was probably the worst thing about the film. So a crazy girl goes around and torture/kills people..........and? what? That's it? It was so shallow. Clearly she's a psycho, but was she always like that? Something a little deeper into her background would've satisfied me. She didn't even have a motive. I would've been interested in why she did the things she did. It seemed kind of pointless. Why is she killing/torturing people? She enjoys it........okay...but are there any other reasons? It was just a plain & simple idea that anyone could've come up with. The next thing that bothered me was the fact that she kills all these people, and she doesn't get caught. Really? People see her around, no one has suspected her? In the one scene where the psycho girl is sitting on the bench with the mother talking. The mother realizes she's a bit off, and leaves the park with her child. There's also a dog walker there, who is kidnapped by the psycho. The dog walker was the mother's neighbor....so wouldn't the mother realize she was missing? And wouldn't the mother call the police and give a detailed description about the psycho girl she saw at the park? I mean the movie let's her get away with so much, and the psycho isn't even very good at hiding up any evidence she leaves behind. I just couldn't believe that she hadn't been caught yet. The movie also doesn't show how the psycho girl kidnaps any of her victims. She's a scrawny girl, how can no one stop her? Are they really [I]that[/I] weak? It was just so unbelievable. The gore and violence were actually pretty impressive, but that doesn't excuse the god awful plot. And for the record, the guy she was torturing for 2 days, would've died from loss of blood much sooner than that....and she kept him conscious for the majority of it, so he probably would've died even sooner. Duh. Don't watch this movie, unless you're watching it for the blood/gore.
Neighbor Quotes
There are no approved quotes yet for this movie.