Nelly and Monsieur Arnaud
(1996)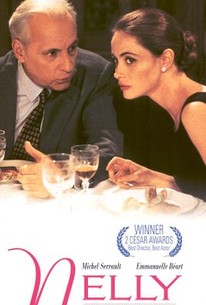 Nelly and Monsieur Arnaud Videos
Movie Info
Nelly is behind on her rent and saddled with an unemployed and uninterested husband. When she meets Monsieur Arnaud, an older and wealthier man, Nelly sees a chance to escape from poverty and loneliness. Arnaud enlists her help with transcribing his memoirs and, as their unconventional relationship blossoms, barely-contained emotions threaten to break free.
Critic Reviews for Nelly and Monsieur Arnaud
Audience Reviews for Nelly and Monsieur Arnaud
½
Or, There's Something About Nelly as seemingly everyone she meets tries to get closer. This slice-of-life film is as slicey-of-lifey as they come. There are no moral judgments or psychological analyses, what you see is what you get - a period of several months from the time Nelly meets a wealthy elderly man to when he leaves for an extended period of time. We see snippets of their lives and their friends' lives, but inner identities and motivations remain guarded secrets. I considered giving 4 stars for the excellent acting craftsmanship, but upon assessing my experience after it was over, without any deeper message the film seems rather "slight." If there is an underlying message, I guess it is that the choices we must make in life affect others as much as they affect ourselves. If you enjoyed Emmanuelle Béart in Un Coeur en Hiver, again directed by Claude Sautet, you'll certainly appreciate her performance and otherworldly beauty in this one too.
Doctor Strangeblog
Super Reviewer
I'm a sucker for Emmanuelle Beart films but I truly enjoy them from an artistic point of view. Nelly works well with Arnaud despite their difference in "years of experience". Chalk up another compelling French drama.
John Ballantine
Super Reviewer
Nelly and Monsieur Arnaud Quotes
There are no approved quotes yet for this movie.