The Net
(1995)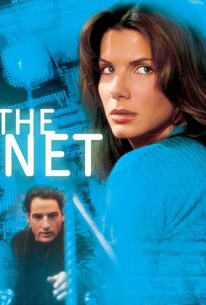 TOMATOMETER
AUDIENCE SCORE
Critic Consensus: The premise isn't without potential and Sandra Bullock is as likable as ever, but The Net lacks sufficient thrills -- or plausible plot points -- to recommend catching.
Movie Info
The electronic superhighway is the backdrop for this provocative thriller that centers on the travails of a reclusive hacker, Angela Bennett, who works out of her home in Venice, CA for the Cathedral Systems company. After six years of hard work, Angela prepares to take a much-needed vacation, but just before she leaves, a co-worker sends her a new Internet program that allows her to access highly classified government files. Later, as the colleague flies down in a private plane to visit her, the plane mysteriously crashes. Though a few more strangely connected tragedies ensue, Angela decides to continue on with her vacation in Mexico. There she encounters a suave British computer whiz, Jack Devlin. At first he seems to be interested in her, but it is later revealed that he really wants that useful Net program. Angela is almost killed. But she faces a fate almost worse than death when she discovers that someone on the Net has stolen her identity. Her visa is stolen and replaced with another. When she finally gets home, her house is for sale, and worst of all, she discovers that she is wanted by the police. Jack is behind it all. If he catches her and steals the disk, all of the government's computer security systems would be compromised.
News & Interviews for The Net
Critic Reviews for The Net
Audience Reviews for The Net
½
Now this was a blast from the past, my teenage years (I was 17 at the time). It might seem crazy these days but I distinctly remember watching this in the cinema with a friend, and both of us scoffing at how ridiculous the movies premise was. The whole idea of the internet (something that was more of a joke back then) being able to bring down someone's entire life. The idea of people actually having portable computers and being able to use them, online! everywhere! The idea of someone's life revolving around a computer...or more specifically the net, was at the time almost inconceivable (unless you were rich). Yes these were simpler times my friends, back before the internet was an integral part of people's lives, or before the internet was even taken seriously. Hell back then movies like this were the only introduction some people had to the, so called, information highway. This and movies like 'The Lawnmower Man' were pretty much the only things most common people saw of the internet, hence why we all thought it was a gimmicky flash in the pan. Even British videogames TV show [i]GamesMaster[/i] would mock the internet with its limited abilities at the time. We were told one day we'd all be surfing the net, we all ridiculed the notion, how wrong we were. Anyway the movie. Systems analyst Angela Bennett (Sandra Bullock) is accidentally drawn into the dark world of cyber terrorism when her work college sends her sensitive information on a floppy disk (remember those?!). The information revolves around the death of the US Secretary of Defense and a large software company CEO, Jeff Gregg. Whilst on holiday Bennett gets wined and dined by mysterious British gent Jack Devlin whom she starts to have feelings for. But before she knows it this British gent is trying to kill her so he can get his hands on this disk. Following a nasty accident where Bennett tries to escape Devlin, she awakes in hospital to discover her life has been deleted. Bennett must now try and find help to recover her life, evade Devlin, and uncover the truth on the disk. Yeah so the plot is your typical computer hacking/expert, on the run type affair which is now a dated concept. This idea was quite new at the time but director Irwin Winkler really tapped into the public's interest by utilising the newfangled internet contraption. The internet wasn't unheard of at the time of course, but it was intriguing to the masses and was used a lot to present an exciting new angle to movies. It was almost like an unexplored universe and Hollywood wasn't gonna let it slip by without milking its every potential. The other main draw for this movie was actress Sandra Bullock who was literally the biggest thing in Hollywood between 1993 - 1995. Hot off a trilogy of blockbusting hits that were 'Demolition Man', 'Speed' and 'While You Were Sleeping', Bullock could do no wrong. She was America's sweetheart with her adorable, girl next door looks and squeaky clean image. People just went to movies starring Bullock, no questions asked, she was huge. This movie also used the highly unpopular nerd image which was still something to mock at the time. Nowadays nerds are all the rage but back in the day oh no, being a nerd was not cool. But what baffled people even more was the introduction to a sexy female nerd, this was virtually unheard of at the time. This did present a problem for the movie simply because no one believed a sexy female could be a whizz-kid on computers or a nerd. Especially Bullock who was Hollywood's new darling leading lady. And admittedly it is hard to believe Bullock in this role because she simply doesn't look like she understands what shes talking about half the time. She also looks surprisingly unathletic considering her previous action movies, she kinda sleepwalks through this looking bored. Looking back now this movie is fun simply to see all the retro hardware and early programs in action. All these chunky laptops, very basic net page layouts, disk swapping and loading etc...it does bring back many memories. The action is kinda sparse but reasonably thrilling I suppose, it was never gonna be a violent movie with Bullock in the lead. Bullock was the queen of PG-13/12 rated movies. So the movie cuts away for any violence and there is little profanity, if any. Jeremy Northam is easily the best thing about the film with his devilishly charming contract killer, probably why his character is called Devlin. In the end this is a very safe and harmless action thriller that didn't want to rock the boat for its leading lady. Bullock is still cute and cuddly while under the stress of being hunted down by a hitman. Being a movie about computers director Winkler obviously couldn't pass up a chance to film at the Macworld/iWorld trade show in San Francisco. So naturally the tense unrealistic finale is shot there. It is hilarious to watch Bennett downloading/uploading such large chunks of data onto floppy disks just in the nick of time. I'm just gonna assume that the trade show would have had the best of the best computers on show so that made it possible. Its all very silly, cutesy and charming these days, so amusing to think this was a big serious release back in the day.
Phil Hubbs
Super Reviewer
Sandra Bullock stars as a computer geek who unwittingly stumbles onto some vague internet conspiracy (" we know everything about you so now we control your life, nya-ha-ha!"), which for us translates into her simply being menaced by Jeremy Northam for an hour or so, only broken up every now and again with folks looking amazed at old style computer screens. Story = one star, Sandra ( I STILL like her) = one star.
Kevin M. Williams
Super Reviewer
Good film! I love Sandra Bullocks work she's an amazing actress!
Bethany Murphy
Super Reviewer
The Net Quotes
| | |
| --- | --- |
| Jack Devlin: | What did you think you were trying to do? Save the world? |
| Angela Bennett: | No, not the world. Just myself. |