Never Again
(2002)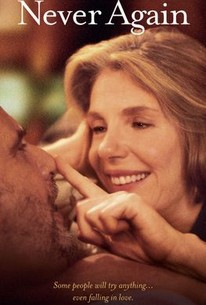 Movie Info
A tale about two lovelorn fifty something New Yorkers. Christopher is an exterminator-cum-jazz musician who, after years of one-night stands, begins to question his sexual orientation. Grace is a divorcee whose daughter has just left home for college. Grace is looking to jump-start her life anew. Grace's best friends push her to try dating again, while Christopher's fellow musician doesn't quite know what to do about his buddy's tentative game plan. When a blind date for Grace goes bad, she ducks into a gay bar--and meets first-time patron Christopher. The circumstances are so wrong that the two are immediately drawn to each other. But as with any romantic relationship at any age, their fears--both mutual and individual--may prevent them from being happy together. Is Grace's credo "never again" a self-fulfilling prophecy?
Critic Reviews for Never Again
Audience Reviews for Never Again
½
Cute. Funny...I have to admit that I laughed really hard when she got caught in the sex suit. Now that was precious!
Cynthia S.
Super Reviewer