Never Back Down 2: The Beatdown
(2011)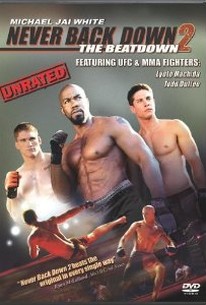 AUDIENCE SCORE
Critic Consensus: No consensus yet.
Never Back Down 2: The Beatdown Photos
Movie Info
A former MMA star (Michael Jai White) trains four young fighters to compete in The Beatdown, a brutal tournament from which only the strongest will emerge victorious. Todd Duffee, Scottie Epstein, and Lyoto Machida co-star.
Critic Reviews for Never Back Down 2: The Beatdown
Audience Reviews for Never Back Down 2: The Beatdown
An explosively surprising knockout of a film. It beats the original in every way possiable. A heart-pounding and stunning action-packed drama. A strong, capable, rich in character and well-crafted film. The best martial arts film since Undisputed 2: Last Man Standing. Michael Jai White gives an incrediable performance and a powerful directional debut. White just dosent know martial arts, he knows how to make it look good and respect it in this film all at one time. The young cast is talented and very spirited. A film thats loaded with pulse-pounding action and alot of heart from it`s story and its characters. This film rocks all the way to the end, it totally delivers. It`s utterly pulse-pounding and exhilarating from the start to it`s mind-blowing finish. A wickedly cool and tremendously entertaining movie. One of the best action films of 2011.
½
Never Back Down 2: The Beatdown is an American action film starring Michael Jai White, Scott Epstein, Dean Geyer, and Jillian Murray and marks White's directorial debut. White portrays Case Walker, a former MMA champ who's on probation and spends his time training four college-age fighters, each with their own individual obstacles. We have Tim (Todd Duffee), a student trying to help his financially-struggling mother; Zack (Alex Meraz), a former boxer who just had a humiliating loss that resulted in a career ending eye injury; Justin (Scottie Epstein), the comic book geek who is rejected by every girl he tries to get with and is harassed by three gang bangers constantly and Mike (Dean Guyer), a collegiate wrestler with a short fuse who's trying to come to terms with the fact that his father left his mom for another man (whoa!). They all learn how to enhance their previous skills for the main purpose of going head to head for the upcoming Beatdown show produced by Max (Evan Peters, the sole leftover from the first film). MJW is as charismatic as ever in this underwritten role as a mentor with a troubled past and my favorite scene is when he fights off 4 or 5 cops showing his dexterity.
MMA fans will probably dissapointed with this Never back down 2. it was MJW's directorial debut, and he did not a bad job in this movie.Acting wise, he was much better than any of the other cast members, who were stiff than anything else. It started off with a bad type of vibe as all the main characters were introduced.The story itself was nothing special and felt more like a pilot episode for a TV serie.The fights were okay choreographed by White, but for those expecting some real bloody fight scenes, you would be disappointed.All in all, it had some decent fight scenes, lots of plot holes,non developed characters, cheesy music, standard direction and a story line that reminded me of the karate kid.If still all this interests you, go and see it. I personally fell asleep towards the end.
Daisy Maduro
Super Reviewer
Never Back Down 2: The Beatdown Quotes
There are no approved quotes yet for this movie.