Never the Twain Shall Meet
(1931)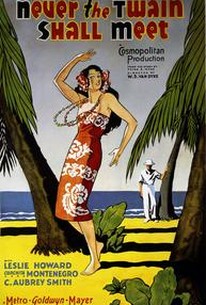 AUDIENCE SCORE
Critic Consensus: No consensus yet.
Movie Info
In this romantic comedy-drama, a wealthy San Francisco businessman becomes the guardian of a sexy young Polynesian woman. At first, he sees her as in the way, but he falls in love with her and moves back to her home island with her, adopting the ways of the natives.
Critic Reviews for Never the Twain Shall Meet
There are no critic reviews yet for Never the Twain Shall Meet. Keep checking Rotten Tomatoes for updates!
Audience Reviews for Never the Twain Shall Meet
½
'Never the Twain Shall Meet' has an interesting cast and some nice moments, but on the whole it's pretty average, and you can do better. The film is a typical interracial island romance from the period, with the scion of a shipping magnate (Leslie Howard) running away from his job, family, and love interest (Karen Morley) to be with a Polynesian princess (Conchita Montenegro). I have to say, it's a mixed bag with Montenegro. It's certainly nice to see the diversity, though as usual with Hollywood mixing up non-Caucasian cultures over the years, odd to see a Spanish actress playing a Polynesian. The combination of her over-acting and the silliness of her character, shown in a rather racist way as childish and simple, is grating. On the other hand, she smolders in her scenes on the island, for example, when she lies on a bed, arms stretched over her head, and gazes at Howard, telling him with her eyes to come take her. There are also several aspects to the film that make it less enjoyable, starting with Howard caning Montenegro because she's sleeping around. Ah, the troubles of the poor white man - Morley is too cold for Howard, while Montenegro is too promiscuous, and the combination drives him to drink. At one point he longs for his old girlfriend, who is "clean and white." Whether it was intended to or not, the film carries with it a message of keeping to one's own race, resisting the temptations of exotic women and "island fever". All of this gives a window into the time period, but the execution here is a little off, and the plot is too simple. If you're interested in this sort of film, I'd recommend White Shadows in the South Seas (1928) or Bird of Paradise (1932), which are both far better.
Antonius Block
Super Reviewer
Never the Twain Shall Meet Quotes
There are no approved quotes yet for this movie.