The New Centurions
(1972)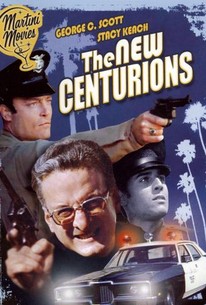 AUDIENCE SCORE
Critic Consensus: No consensus yet.
Movie Info
An idealistic rookie cop joins the LAPD to make ends meet while finishing law school, and is indoctrinated by a seasoned veteran. As time goes on, he loses his ambitions and family as police work becomes his entire life.
Critic Reviews for The New Centurions
Audience Reviews for The New Centurions
½
"The New Centurions" is a matter of fact and episodic take on policemen in Los Angeles that is overwhelmingly sympathetic to the officers and the daily grind of their unglamorous and thankless profession in changing times. As depicted, the job is unpredictable as the cops do not know what may be around the next corner, only to be prepared for the worst.(So, it is ironic that the movie tips its hand in a couple of key scenes.) Made in 1972, the film was made at a time when minorities were beginning to be hired into the ranks as the Supreme Court hands down decisions further defending rights for citizens. So, it stands for Roy Fehler(Stacy Keach), a new recruit and law student, to explain this to his fellow cops, especially Andy Kilvinski(George C. Scott), a veteran beat cop one year away from retirement, who has been partnered with Roy. It is Kilvinski's task to explain the rules to his young partner and how they can bend them without going too far, injecting a human factor into their hopefully courteous interactions with civilians. At first, Roy thinks of his job as a temporary way to provide for his family but as time goes on and he does not quit, tensions grow between him and his wife Dorothy(Jane Alexander). Even though balance is key between professional and personal lives, nobody can quite find it as the job becomes all, as the closest connections the cops have is with each other, the need to trust one's partner coming above everything else.
½
It's presented as a flick that shows the real and rugged side of being cop, but anyone can tell it's a little embellished for your entertainment. That doesn't, however, take away from how effective it is. It's a straight up, gritty film about cop-life that really gets you into the different stars minds, but at the same time doesn't skew the film in such a way as to have you not see them objectively. It's constantly making the characters look good and bad in different lights, sometimes even at the same time. It's episodic nature, beginning with a few new recruits first night on the job, really brings you in and keeps you wanting to see more and more throughout the duration. Obviously George C. Scott is great, but Stacy Keach and Erik Estrada and great in it too. If you dig cop flicks, find this one and watch the dung out of it.
Patrick Dolan
Super Reviewer
The New Centurions Quotes
There are no approved quotes yet for this movie.