New Police Story (San ging chaat goo si)
(2006)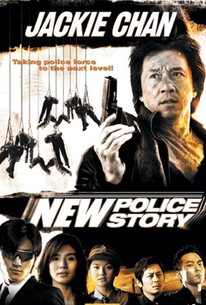 New Police Story (San ging chaat goo si) Photos
Movie Info
A police officer has been disgraced in front of both the department and the entire city, and when the sadistic gang that wronged him attempts to cement their grip on the terrified community, the only man who can come to their aid is the one nobody believes in anymore as the long-running Police Story saga receives an exciting breath of fresh-air from director Benny Chan. Police Inspector Wing (Chan) used to be Hong Kong's top cop, but when his entire team is wiped out by a youthful group of cold-blooded bank robbers, Wing quickly falls into a deep depression. A year after everyone including Wing's fiancée has lost their faith in the fallen police inspector, Wing gets a second shot at glory when he is assigned an ambitious new partner and given the opportunity to bring the gang that nearly destroyed his life to justice.
Critic Reviews for New Police Story (San ging chaat goo si)
Audience Reviews for New Police Story (San ging chaat goo si)
½
Jackie reboots the Police Story franchise and things go awry. The original movies shined because they were a mix of action/comedy that really blends well with Chan's comical acting; a staple style in his work that any fan can vouch for. The reach for emotional realism might be a good endeavor in theory but the conflicts that take place just get littered with plot holes to a point where you can't take anyone in this film seriously. Combined with a cast of unconvincing villains and support roles, we end up with a poor mix-mash of HK styled drama and silly 1v1 beat-ehm-ups.
Drake Tsui
Super Reviewer
Except for the dufus who plays his new replacement partner, this is WONDERFUL : ) It's Jackie Chan to begin with, so, really, we should just watch it even we think poorly of it in the end. But on the side of arguing that it's worth watching, no matter how good or bad it might be -- Oh, well that's the side of the argument I sit on -- so please just go ahead and watch this one. It really is one of Jackie Chan's best acting jobs -- I think.
And you are actually reading this?
K-den! I might be wrong . . . But you all can be the ultimate judges : )
Not to mention that IT IS Jackie Chan, so why haven't you all seen it already? : )
Lanning : )
Super Reviewer
A comeback from JC with new touch!
Aliyanto Latip
Super Reviewer
New Police Story (San ging chaat goo si) Quotes
There are no approved quotes yet for this movie.