New Rose Hotel
(1999)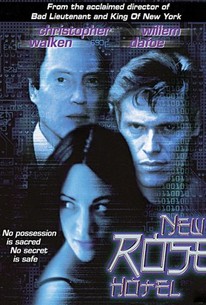 Movie Info
Abel Ferrara directed this erotic thriller adapted by Ferrara and Christ Zois from a short story by science fiction author William Gibson (in his Burning Chrome collection). Global corporations rule the world, and corporate raider Fox (Christopher Walken) and his deputy X (Willem Dafoe) could pocket $100 million if they can get top scientist Hiroshi (Yoshitaka Amano) to defect from one corporation to another. Fox offers singer Sandii (Asia Argento) $1 million to seduce Hiroshi away from his wife, family, and employer. An affair develops between Sandii and X, while she studies facts about Hiroshi's life. She departs on her assignment, but betrayals ensue, with Fox and X soon becoming targets themselves. With opening credits in three languages (English, German, Japanese), the soundtrack features the score-composition debut of hip-hopper Schoolly D, music which plays over a blank screen at the wrap-up (since the film has no closing credits). This Gibson short story was a property once in development by director Kathryn Bigelow. The title story of Gibson's Burning Chrome collection was planned as the second Heavy Metal movie, intended for live-action and scripted but never filmed. Shown in competition at the 1998 Venice Film Festival.
Critic Reviews for New Rose Hotel
Audience Reviews for New Rose Hotel
New Rose Hotel, I admit, is not actually a good movie (though it is). It lacks in dramatic tension and in substance, material. Why do some rate it up then? I do so for the style and the acting. I think you have to be a fan of Walken, Defoe, literature, noir, and enjoy looking at Argento red lit to be able to rate this one up.
Robert Brogan
Super Reviewer
½
New Rose Hotel is a great looking, stylish film, carefully shot and wonderfully acted by Walken and Dafoe, but I have never in my life seen a movie that goes so far out of its way to go absolutely nowhere. We're given a long setup explaining the details of Fox and X's plan to basically steal a scientist and sell him to a rival company. The last forty minutes however does almost nothing with this narrative. Various events which cause the plan to deteriorate are referenced secondhand, and the story mostly then just descends into overlong conversations that rehash portions of what we've already seen. At the same time the film also tries to thrust X and Sandii's lukewarm romance into the forefront when it has nothing to do with the main narrative, since there really aren't any further implications of their involvement (or lack of) with one another. This was very much a wasted opportunity to create a dramatic, work of sci-fi art.
Brett Warren
Super Reviewer
½
Hypermedia spy story -- "What is real in the world? What/who can I trust?" -- is actually a thin veil for a doomed romance story: "Is my love real or an illusion? And BTW, could virtue, mine or maybe hers, have saved me from illusion?" Unlike Alphaville, I never get the flickering sense that this world, jerryrigging pieces of the present to represent the future, is a real place. Instead, this move plays like vignettes in an off-Broadway play about the future, with monitors showing tinted surveillance footage next to the stage. Walken creates a real, whole character out of verbal pirouettes around cliches; Dafoe is more than believable in the mute, physical acting required by a sustained flashback montage; and Argento is more of an underwritten cipher than she is mysterious. Her part in the con, as a surefire seductress, we have to take on faith. With the elliptical editing and blacked-out backgrounds, they could stuff anything in the plot, but they don't. The fact that the movie stays together, as does Walken and Dafoe's goldminers' pact, keeps things intriguing enough. We want to know exactly how everybody is going to commit suicide by Fate.
Adam Mahler
Super Reviewer
New Rose Hotel Quotes
There are no approved quotes yet for this movie.