New World
(2013)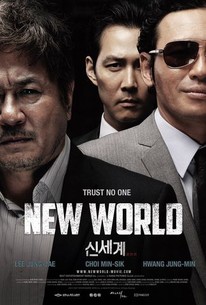 Movie Info
SYNOPSIS: The head of the Goldmoon crime syndicate is dead, leaving his top two lieutenants. Seizing the opportunity, the police launch an operation called "New World," with the perfect weapon. The boss' right hand man, Ja-sung (LEE Jung-jae, THE THIEVES), has been a deep-cover operative for 8 years, closely watched by handler Police chief Kang (CHOI Min-sik, OLDBOY). With a baby on the way, and living in mortal fear of being exposed as a mole, Ja-sung is torn between his duty and honor as a cop, and the fiercely loyal gang members who will follow him to hell and back. (c) Well Go USA
Critic Reviews for New World
Audience Reviews for New World
A derivative crime movie that wants to be a mix of The Godfather and Infernal Affairs but is so incredibly obvious, overdone and desperate to come up with twist after twist after twist that it drags for much longer past the moment when it should end and becomes utterly ridiculous.
Carlos Magalhães
Super Reviewer
½
I don't know, but I wasn't expecting to enjoy this movie as much as I did. For the most part, it plays out like any other typical crime thriller, with obvious nods to famous films in the genre. The acting is strong, as is typical in these films, but there was nothing that was blowing my mind until a certain point in the film. The film sees Detective Kang, who's Ja-seong's boss and the one who's made him stay undercover in this gang for 10 years, playing every side against each other. This includes the two main candidates for the position of Goldmoon chair, even though there are three, the main character, especially the main character, and his wife. This definitely takes a lot of patience to get through, because you're not even sure where anything is going. But once all the cards are revealed and Kang's motivations are revealed, the movie kick it up a notch and it doesn't stop until the ending. I don't wanna say the film had a clever story, but since the movie focuses so much on Ja-seong and his relationship with the two candidates, the film has a very surprising reveal. Not surprising as in shocking, but in that you completely forget about this third wheel in the cog, and when it's finally revealed there's a nice moment of 'Oh, THAT'S who it was all along.' And I thought that was a pretty cool moment. And I also liked the main character's narrative, because he is this man who has been manipulated by Kang for years to do his dirty work. And this is something that only intensifies during the events of the movie, he's constantly being pushed and ordered around, even when he was promised a reassignment long ago. So it's really VERY satisfying, at the end ***SPOILERS***, when you seea good man who was simply pushed too far and how he rises through the ranks to be the head of Goldmoon and screwing over those who used him. At the same time, the film is also about loyalty. Not necessarily loyalty to the gang, but loyalty to those that were there for you, and that definitely was the reason Ja-seong did what he did, as I don't really think he ever wanted to rule over an entire criminal corporation ***END SPOILERS***. I definitely really liked that part of the film, because it's subtle. They don't beat you over the head with the fact that Ja-seong and Jeong were close, it was something you gradually saw as the film went along. Even if the ending was a little sentimental, I thought it was a well-written friendship. And, of course, no movie of this type would be complete without a lot of violence. The film really picks up the intensity in its last 30 minutes, with the fight scene in the parking lot that was literally pandemonium. There's also this cool scene in the elevator with Ja-seong fighting a bunch of guys. I always like these sort of closed-quarters fight sequences, I don't know but it was a really cool scene. As you can see, I was a big fan of this movie. It's not perfect, as this movie takes a lot of patience to get through before things really pick up, but the narrative of shifting alliances is very satisfying and the acting is very strong, so I can't really complain too much.
Jesse Ortega
Super Reviewer
½
It's difficult to standout in the crime genre when many similar films have taken inspirations from the greats, but never match them. When it comes telling a fresh story it's nearly impossible to do so without falling into common traps. New World is such a crime film that while well made provides nothing new you have not seen before. New World tells the story about a conflict between the police and the mob through the eyes of an undercover cop. Like most films with this similar premise it contains plenty of characters being driven by dialogue and not violence. It's a slow burn getting to know all the major player in the film which sadly has little pay off. We're detached from the characters of the film spouting plot devices and force dialogue that attempt to add a level of high risk stake. There's no sense of reality in the film as everything in the world is planned. It's unable to conceal the feeling that we're moving from plot point to plot point. Our detachment from the characters is not overtly negative as both the gangster and police side are equally flawed. Blurring the line of what side serves a greater good based on the protagonist own established morals or by the fulfillment of his job to maintain order. The wisecracking dialogue and banter between the crooks and cop provide moments of entertainment when not attempting to become serious. It plays a lot of guessing game on audience as alliances are questioned, loyalties broken, and the search of a leader causing boundaries to be broken. It's more than capable maintaining interest in the story that many familiar beats. Undercover cop doubting his superior trust, undercover cop is in danger of cover being blown, a gangster betrays his crew for higher power, undercover cop lingers on who's to serve, and the list goes one. Your perception of characters are constantly changing. Unsure of what exactly they will do next. The ending fizzles the journey for one reason. In the end no significant sense of progress from where the protagonist started in the film to where he ends up. It seems like a logical choice that holds no shock value is gain when the protagonist choosing his side. Hwang Jeong-min plays a nervous wreck undercover cop. Vividly portraying the depths of his character through could line delivery as a gangster or convoluted emotions as a cop. Choi-Min-sik is commanding and manipulative in his role. Choi-Min-sik is a character you'll love to hate with his lack of concern for a human life with each layer reveal about Min-Sik character the more versatile he becomes playing a man of many shades. Hwang Jeong-min is the most charismatic of the cast. His loose nature and wise cracking attitude makes Jeong-Min a noticeable standout for being the only actor who can pull off dramatic acting and dark comedic relief. Hoon-jung Park's direction is stylish capturing the essence of a noir film. The pacing and the storytelling work well, adding suspense and never feeling the complex story to much to take in. Using the looming city as a background, the film takes audiences into the underground of South Korea, where crime has fully infiltrated major businesses. Both the gangsters and the policemen are seen in suit and ties, making the distinction between the two forces at best murky. Park also effectively uses lighting in numerous instances to highlight the chaos Ja-sung finds himself in. If you're expecting plenty of bloodshed you'll be be disappointed by the low body count. Also the sequence where actor Hoon-jung fights off a crowd of gangs member in a elevator is terrifically filmed and fulled of tension that's worth complementing. New World is anchor by strong performances and a well written complex story. Sadly what holds it back is the ending and overly familiar plot beats that feel obligatory in the genre. It provides nothing new, but the provides the same thing we seen before in a well done package.
Caesar Mendez
Super Reviewer
New World Quotes
There are no approved quotes yet for this movie.