New York Minute
(2004)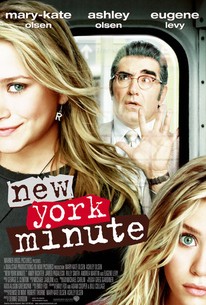 TOMATOMETER
AUDIENCE SCORE
Critic Consensus: Feels more like a calculated product designed to expand the Olsens' brand than an actual movie. Also, it contains ethnic stereotyping and sexual innuendo.
Movie Info
Marking their first theatrical-release feature since 1995's It Takes Two, the Olsen twins bring their adventures back to the big screen with New York Minute. Billed as a sort of Ferris Bueller's Day Off for tweens, the plot involves the escapades of two enterprising Long Island girls, Roxy (Mary-Kate Olsen) and Jane (Ashley Olsen), as they decide to dupe their parents and spend a day on the island of Manhattan. It seems the high-minded Jane has a speech to give to a scholarship committee, while the punky Roxy wants to meet her favorite rock band. When Jane's planner gets swiped, however, the girls find themselves embroiled in a political scandal involving a high-powered senator (Andrea Martin), as their high school's truant officer (Eugene Levy) doggedly pursues them.
Critic Reviews for New York Minute
Audience Reviews for New York Minute
Inoffensive piece of tween fluff. I watched this while suffering from a bad back, and headache, and I always seem to rate this type of stuff better when I am not well . Possibly if i watched it next week, would say it is only a two star rating. For some reason I seek out the fluff as it is not demanding and can't handle too much thinking at times like this. LOL. I don't think I have ever sat through an Olsen twins movie prior to this, mainly I picked this one because I like Jared Padalecki in Supernatural, thought I would check it out. I have to say neither twin can really act, but they are likeable in a big eyed sort of way. None of this story rings true, and they should be shot for the David Bowie cover at the end (supposedly Roxy's band), but generally I can't even sit through one of these kidsy movies in full, so I guess it couldn't have been too awful, or maybe it's just that I couldn't really move to switch it off!
Nicki Marie
Super Reviewer
½
Fun when I was a kid, but its very cliche now!
½
I didn't think that this movie could have pretty much fun... Ashley and Mary-Kate Olsen can give me some fun too, not just they two having fun for themselves... But this movie get a little boring when it comes at the ending... Overall, it's a pretty good movie to watch...
Sanjaya 丘耀文
Super Reviewer
New York Minute Quotes
There are no approved quotes yet for this movie.