New York Stories
(1989)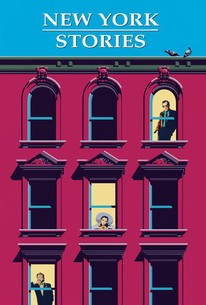 Movie Info
The omnibus film New York Stories is the product of three powerhouse filmmakers. The film is divided into three stories, each exploring a different aspect of life in the Big Apple. Life Lessons, directed by Martin Scorcese, is a Dostoevsky-like tale of the rarefied Art World, with Nick Nolte as a self-indulgent abstractionist who loves Rosanna Arquette, but can't bring himself to lie to her about her negligible artistic talents. Life Without Zoe, directed by Francis Ford Coppola, is more than a little reminiscent of Kay Thompson's Eloise stories, with 12-year-old Zoe (Heather McComb) running amok at the Sherry-Netherland hotel while her parents are embarked upon a world-girdling vacation. The last and is Woody Allen's Oedipus Wrecks, wherein a schnooky lawyer (guess who?) inadvertently "creates" the Jewish Mother From Hell: thanks to a misguided magic trick, Allen's mama (the incomparable Mae Questel) becomes a huge spectral vision on the New York skyline, telling everyone within earshot about her son's inadequacies. The cinematographer lineup on New York Stories includes Nestor Almendros, Vittorio Storaro and Sven Nykvist. ~ Hal Erickson, Rovi
Critic Reviews for New York Stories
Audience Reviews for New York Stories
½
New York Stories have two good tales: Life Lessons by Scorsese and Oedipus Wrecks by Allen. But Coppola's Life Without Zoe, it's terrible, boring and totally disappointing. The worse thing in the movie is Coppola being with others great directors. The 70's was a terrific time to Francis Ford and his classic pictures that gonna be unforgettable in cinema history, but all change in 80's and this status of master stay really weak. One of this disasters is the short film Life Without Zoe in New York Stories, and what make the movie be not very good. Scorsese and Allen save the picture... but not enough.
Lucas Martins
Super Reviewer
None of these stories are really BAD per se; just really badly filmed and very nineties lighting. Woody Allen's segment was okay funny, Scorsese's thing was confusing but watchable, Coppola's...I don't even want to talk about it. I'll pretend it didn't happen. There is seriously something wrong with the technique with which these shorts were made. Did they hire worse people to do the camerawork because they weren't given enough money?
Jennifer Xu
Super Reviewer
½
One again everything Sofia Coppola touches turns to shit. Tucked in between Scorsese's comment on art and Allen's delightful matriphobia comedy is Coppola's big floating turd of a short.
Ken Stachnik
Super Reviewer
New York Stories Quotes
| | |
| --- | --- |
| Sheldon Mills: | Boiled chicken. That's my mother's specialty. Of course she manages to render the bird completely devoid of any flavor. It's a culinary miracle. |
| | |
| --- | --- |
| Sheldon Mills: | Can you really cook or do you just stand orver the stove and chant or something? |
| | |
| --- | --- |
| Rita: | That was great. You never made love to me like that before, and you didn't even have alcohol. |
| | |
| --- | --- |
| Zoe: | They named me Zoe, because Zoe means life in Greek. |