The Next Best Thing
(2000)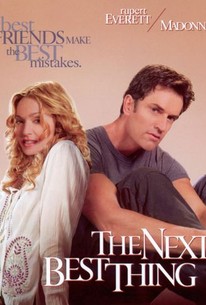 The Next Best Thing Videos
The Next Best Thing Photos
Movie Info
Madonna and Rupert Everett star in this comic drama about a mismatched couple whose unconventional choices lead to an unusual dilemma. Abbie (Madonna) and Robert (Rupert Everett) are best friends, but since Robert is gay, their friendship never progresses into a romance. However, both Abbie and Robert desperately want to be parents, and they agree to have a child that they will raise together. This raises a few eyebrows, especially from Robert's mother (Lynn Redgrave) and Vera (Illeana Douglas), a close friend of Robert's who is secretly in love with him and wants the sort of relationship with him that he has with Abbie. Robert and Abbie go through with their plan, but when Robert meets and falls in love with another man, he decides he wants custody of the child, setting in motion a bitter dispute. Everett co-wrote the screenplay for The Next Big Thing; it was Everett's first produced screenplay, though he previously published a novel.
News & Interviews for The Next Best Thing
Critic Reviews for The Next Best Thing
Audience Reviews for The Next Best Thing
½
[font=Arial][color=darkred]The Next Best Thing' offers viewers the chance to see an off-kilter romance and drama about the raising of children through standards alternative to modern society. Whatever, it sounded good on paper. What you get, of course, is implausible and dismal politically correct drivel served cold.[/color][/font] [font=Arial][color=darkred]Madonna and Rupert are the best of buds, but he's gay. So of course it's only nature and a matter of time before they sleep together and get pregnant. They decide to disclose the idenity of the daddy and raise the child together. Why they never went with the Virgin Birth angle is beyond me. So they raise it. And they do. Madonna dates and brings home strange men to make strange noises through walls. Who says the family is in trouble? Then the Material Girl wants said child for herself... and it pretty much veers further into absurd soap opera from there on out.[/color][/font] [font=Arial][color=darkred]The premise is a rip-off of the earlier 'The Object of My Affection', which in turn was a rip-off of 'Chasing Amy'. Get prepared for countless scenes of Madonna and Rupert galavanting about like they're in a perpetual slumber party. Never in recent memory has a more awkward film been so damn preachy. It's a never ending soapbox of sermons about family values and gay rights. Wonderful -- but if I'm not mistaken wasn't there supposed to be a story somewhere?[/color][/font] [font=Arial][color=darkred]The movie resides as one half comedy (?) then one half drama, neither of which is consistant let alone entertaining. Somewhere there's a violent jolt into an out-of-place 'Kramer vs. Kramer' courtroom battle royale. If the audience is supposed to feel for Madonna's character then nothing like a selfish child custody battle to win the hearts of everyone![/color][/font] [font=Arial][color=darkred]Who's the victim in this? Not the child - it's the audience.[/color][/font] [font=Arial][color=darkred]Rupert Everett may be the only redeeming part of this uneven and mushy dramedy of lapsed judgement. His charm is evidant and his leading-man ability carries the film as long as he can until it implodes on itself. I could clearly hear sighs around me of "If only he weren't gay." in the theater. Go Rupert. At least someone has some acting ability instead of an excuse to sell soundtracks.[/color][/font] [font=Arial][color=darkred]Madonna is clearly the biggest hinderance in 'The Next Best Thing'. Whenever she speaks it's like she's reciting lines into a mirror. Madonna has some mysterious British accent she seems to have picked up and is as wooden as a board./color][/font] [font=Arial][color=darkred]If 'The Next Best Thing' really is the next best thing for Madonna's struggling film career, I'd suggest her next best thing would be to quit. And pray to the other Madonna while doing it. At least she would have enough sense not to do a silly remake of 'American Pie'.[/color][/font] [font=Arial][color=darkred]Nate's Grade: D+ [/color][/font]
Nate Zoebl
Super Reviewer
Rupert and Madonna re friends who have a drunken night.
Candy Rose
Super Reviewer
Will someone PLEASE tell Madonna to stick to the day job?? She's just embarrassing herself...and someone should tell Rupert Everett that having an english accent isn't enough to carry a film outside of the US' female demographic.
The Next Best Thing Quotes
There are no approved quotes yet for this movie.