Next Stop Wonderland
(1998)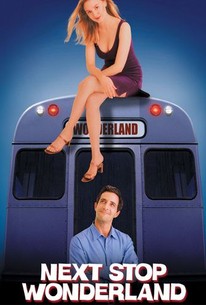 Next Stop Wonderland Photos
Movie Info
Boston-based filmmaker Brad Anderson, (The Darien Gap) directed this drama about registered nurse Erin Castleton (Hope Davis), who is dumped by her political-activist boyfriend. Her mother, Piper (Holland Taylor), who runs a successful modeling agency, feels a personal ad in the paper will solve the problem. It's possible she could meet aquarium worker Alan Monteiro (Alan Gelfant), as their paths keep them in close proximity, but destiny seems more inclined to make her a twosome with friendly Brazilian Andre (Jose Zuniga), returning soon to Sao Paulo. Will she travel to Brazil with him? Shown at the 1998 Sundance Film Festival.
Critic Reviews for Next Stop Wonderland
Audience Reviews for Next Stop Wonderland
This was supposed to be the film that launched Hope Davis' career as a mainstream actress but it didn't quite do that in the end. I thought this was a pretty amusing piece. Not too serious but not exactly a fluff piece either. Not bad.
John Ballantine
Super Reviewer
Next Stop Wonderland was a enjoyable movie to watch. The romantic aspect was the backbone of the movie.The connection worked because when you met the two future lovers, you know they were special in a way. These two characters had a special bond, even before they met. So the whole time the movie went on , you felt they were together because of their similarities.The supporting cast was wonderful. Phillip Seymour Hoffman had a small role, even so he was great. The movie reminds me a little of Sleepless in Seattle.
Daisy Maduro
Super Reviewer
Did you ever hear that old adage, "Love always finds you when you aren't looking for it" or "You can't find love...it finds you."? Here you have it. A woman is caught between her feelings of contentment with being alone and some nagging need inside her that tells her she needs love and to be loved. There is even a dialogue between Erin (The main character played by Hope Davis...who is marvelous) and a colleague where her colleague turns to her and says, "Don't you just hate men?" and Erin turns back and says "No, I wish I did. It would make life a hell of a lot easier." While a series of missed meetings with someone who is apparently her soulmate play in the background she goes on various "dates" to find a suitable suitor. She is a hard match up. She is incredibly intelligent, strong-willed, beautiful, and most of all, fighting the need that she feels to be in love and loved in kind. Enter Alan, the aspiring Marine Biologist, but practicing plumber...who is always just out of reach in our seemingly small world. There are a few loose ends (probably better left untied) and a few performances that were lacking otherwise I might have given this movie 5 stars...I really did enjoy it that much. If you are looking for a love story/comedy wrapped in in anti-love story focused on a very strong female lead with some biting and witty dialogue, but is in no way a "chick flick"...this is your movie. Enjoy
Next Stop Wonderland Quotes
There are no approved quotes yet for this movie.