The Next Three Days
(2010)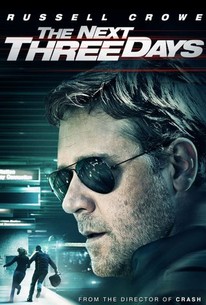 TOMATOMETER
AUDIENCE SCORE
Critic Consensus: Russell Crowe and Elizabeth Banks give it their all, but their solid performances aren't quite enough to compensate for The Next Three Days' uneven pace and implausible plot.
The Next Three Days Videos
The Next Three Days Photos
Movie Info
His wife convicted of a murder she swears she did not commit, a college professor plots to break her out of prison in this thriller starring Russell Crowe and Liam Neeson. John Brennan (Crowe) and his wife, Lara (Elizabeth Banks), were happily married and raising a family when their lives fell apart in the blink of an eye. Lara has been charged with murder, and despite every effort to prove her innocence, the judge sentences her to an extended prison sentence. Meanwhile, on the outside, John files multiple appeals while struggling to raise their children and maintain his career. Lara's future starts to look especially grim, however, after the final appeal is rejected, and she admits that she'd rather commit suicide than spend the rest of her life behind bars. Determined to save his wife after the justice system fails her, John seeks the advice of ex-convict Damon Pennington (Liam Neeson), who staged his own daring prison escape, in order to draw up an airtight plan. Later, John prepares to put his life on the line for the woman he loves, and sets the plan into motion with the knowledge that one false move could be their last. ~ Jason Buchanan, Rovi
Critic Reviews for The Next Three Days
Audience Reviews for The Next Three Days
½
This remake of Anything for Her is even more implausible than that film, and Haggis includes details that don't work really well, but he also injects more tension and stretches some scenes to the point of nerve-wracking while Russell Crowe puts in a strong performance.
Carlos Magalhães
Super Reviewer
½
A schoolteacher's wife is imprisoned for first degree murder based upon circumstantial evidence and when the final appeal fails and she resorts to a suicide attempt he pours all his skills as a researcher into engineering a meticulous plan to break her out. Very much in a similar vein to TV series Prison Break, The Next Three Days has the premise of an ordinary and honest man resorting to extreme measures when faced with an untenable situation. It's not as convoluted as the series however, concentrating more on the human drama than histrionics; in fact the inevitable mix of wobbly-cammed screeching tires, helicopters and cop dodging is easily the least interesting part of the film. Some will be disappointed at the lack of action, especially considering the trailer which was clearly cut together to make it look like another shit-witted action thriller for the ADHD generation but I personally am a fan of Haggis' more subtle and human approach to the thriller formula which dispenses with the usual associated macho bullshit and pointless running around with guns. As a result it feels a lot more plausible and realistic (at least until the rather unlikely finale) and you actually care what happens to the characters thanks to a strong performance from Crowe as the desperate husband and father. It does stall somewhat near the conclusion and never really gets back into gear, but the intelligent approach makes it a cut above the usual Hollywood fare.
Possible spoilers found here "The Next Three Days" presents itself with a bold moral view that challenges viewers with a difficult moral code to live by-- in particular, a man that is willing to risk everything for the sake of his spouse that is spending life in prison. It's definitely a courageous act when done under the umbrella of the law, but is it okay if you step outside into the rain? The film does touch upon the question, but half way through, you see where Paul Haggis, the writer and director, sides with: he embraces this moral viewpoint, no matter what the circumstances may be -- even if it leads to taking human lives and compromising the utmost important of laws. Haggis embraces this morale as a righteous, upright, and good act, even when the wife rightfully deserves it. It's a mess and it left me having a disgust towards the message of the movie. The worst part about it? At the end, "The Next Three Days" tries to tie it all off as if Russell Crowe's actions was the best possible decision one could make at such an occasion. At a technical standpoint, "The Next Three Days" is made with adequate technicalities, but the void between the transition of one technical method to another is lacking and sloppy. It's like an amateur that read up on all the things that make a movie a technically sound and cobbling them all up, resulting in an uneven and choppy motion picture. Russell Crowe does a commendable job but Elizabeth Banks was considerably lacking in the acting department. Some of the emotional scenes that demanded raw emotion to spew forth from her was not believable nor convincing. That's not to say that there are harrowing scenes, especially in the third act of the movie where the planning of the breakout comes to fruition, but before then, it's overly extended which hurts the pacing of the film. Was it an entertaining time? Sure, but it's hardly gonna be a memorable one. "The Next Three Days" is an effective thriller that exudes some of the most aggravatingly abominable moralistic teaching since recent filmmaking. Yeah, it's not like, "Let's embrace murder!", but it's the sly persuasive undertones that the film pitches at viewers is what's so bothersome. Films that compromise upright living such as this is one of the few aspectual reasons as to why children grow up with such flawed paradigms, because it embraces how no matter how you may feel, it's okay as long as it's a "righteous" act such as rescuing your loved one.
The Next Three Days Quotes
| | |
| --- | --- |
| Prison Guard: | "You walk out that door with him and you'll both be dead." |
| Prison Guard: | You walk out that door with him and you'll both be dead. |
| John Brennan: | "Shut up!" (duct tapes the guard's mouth) |
| John Brennan: | Shut up! [duct tapes the guard's mouth] |
| | |
| --- | --- |
| Damon Pennington: | No prison in the world is airtight. |
| | |
| --- | --- |
| Lara Brennan: | I don't think I can last another twenty years... |
| | |
| --- | --- |
| Damon Pennington: | No prison in the world is airtight |
| Damon Pennington: | No prison in the world is airtight. |