Nice Girls Don't Explode
(1987)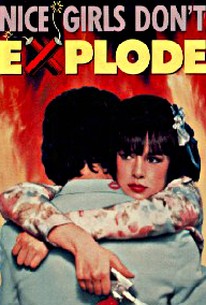 Movie Info
April (Michelle Meyrink) is a hot item who causes her boyfriends to spontaneously combust in the heat of passion in this low-budget comedy. Her childhood sweetheart Andy (William O'Leary) is the one who usually gets burned and doesn't believe the warning given by April's mom (Barbara Harris). The involuntary curse gives April several opportunities to burn up the big screen with a sizzling sample of laughs. Made in Lawrence, Kansas with an estimated production cost of a million dollars, this film marks the directorial debut for Chuck Martinez.
Critic Reviews for Nice Girls Don't Explode
All Critics (5) | Fresh (3) | Rotten (2)
It's more interested in offering a sociological critique and an intellectual humor than immediate laughs. [Full Review in Spanish]
A humorous reminder of those old public information films that American youth was shown in the 50s
September 20, 2001
Audience Reviews for Nice Girls Don't Explode
The title alone got my attention because of how odd it was. While I wasn't expecting anything good I was hoping for some goofy fun. Needless to say I didn't that with the title being the most amusing thing about the movie. Nice Girls Don't Explode is about a woman who starts fires as she becomes aroused. That's a thin premise and even thinner in execution. It's reliance on a single joke wears out quickly and in a 80 minute movie it makes the whole ordeal feel longer than it actually is. It's a bizarre comedy that has no concept of comedy. A guy who gets his leg shaved in the Hospital is consider a joke. With jokes like that you'll remain silent. The worst offense is a twist on the story. Instead of being a story of woman causing fire when aroused it turns into a story about an overprotective mother. It's an odd direction to take the story in and becomes it biggest downfall. It's so excessive in the bad way. Its takes allot just to buy the premise alone and it expects you to be okay with the mother weak (and lack of) explanation for her actions. The characters are all annoying, the plot while goofy fails to a strike a balance with the more tender moments, and finally it is not funny. It doesn't help matter when the acting is plain awful. It's a chore trying to see these clueless actors trying to bring comedy into a scene that doesn't need it. The actors try bad line delivery, cheesy to hamming acting, slapstick, emoting over the top reaction, but nothing works in the actor favors coming off as annoying. Nice Girls Don't Explode title is the only amusement you'll get. For a comedy it is unguided and unsure in everything it does without a single actor who can do comedy. You won't find a fun B-movie here let alone one that'll garner a single laugh.
Caesar Mendez
Super Reviewer
½
Crazy funny! Michelle Meyrink is certainly one-of-a-kind.
Nice Girls Don't Explode Quotes
There are no approved quotes yet for this movie.