Nice Guy Johnny
(2010)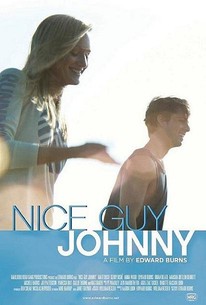 AUDIENCE SCORE
Critic Consensus: No consensus yet.
Movie Info
A man determined to right suddenly isn't sure what the right thing should be in this independent comedy-drama. One of the few things Johnny Rizzo (Matt Bush) loves as much as his job as a host on a sports-talk radio station is his longtime fiancée Claire (Anna Wood), who is gently but firmly persuading him to find a more responsible career. Johnny's show is currently airing at 2 a.m. and doesn't pay very well, and as much as he enjoys it, he decides to make good on a promise he made to Claire that if he wasn't making at least $50,000 a year by the time he turned 25, he'd take a job with her wealthy father's box making company. As Johnny heads to the Hamptons to meet with Claire's dad, he ends up staying with his Uncle Terry (Edward Burns), a chronic womanizer determined to show Johnny a good time whether he likes it or not. Loyal Johnny isn't interested in any of the gals Terry throws his way, but when he meets Brooke (Kerry Bishe), a beautiful woman who is giving tennis lessons to Terry's (married) girlfriend, for the first time in years he finds himself infatuated with someone else. Johnny is thrown for a loop when Brooke tells him the last thing he should do is give up his job for Claire. Written and directed by Edward Burns (who cast himself as Uncle Terry), Nice Guy Johnny received its world premiere at the 2010 Tribeca Film Festival.
Critic Reviews for Nice Guy Johnny
Audience Reviews for Nice Guy Johnny
½
A sports talk show host develops affection for a beautiful young woman while resisting pressure from his fiance to take a job in cardboard sales. I'm surprised at how disappointing this film is. Writer/director Edward Burns often crafts complex, colorful characters and puts them in interesting relationship dilemmas. The formula usually works, but these characters are incredibly plastic. Matt Bush says his lines, and that's all that can be said for him. He's nice, as required by the plot, but there's nothing interesting about him. Burns's theme can be summed up by the stupid cliche, "Nice guys finish last." As evinced by Burns and the cliche, "nice" in this context means "weak" or "ineffectual." Thus, the film doesn't say anything unique about niceness or that sticking to a code requires strength and character. Johnny's code is society's code, the code set for him by everybody else, so there's no individuality to the character. Overall, unlike most of Burns's work, this movie sucks.
Jim Hunter
Super Reviewer
Cast: Max Baker, Kerry Bishé, Edward Burns, Matt Bush, Brian Delate, Marsha Dietlein, Harper Dill, Michele Harris, Jay Patterson, Callie Thorne, Anna Wood Director: Edward Burns Summary: Although he loves his job as sports radio talk show host, Johnny (Matt Bush) promises to take a dull but high-paying position to satisfy his fiancée (Anna Wood). But when he falls for a free-spirited beauty (Kerry Bishé) in the Hamptons, Johnny starts to reconsider everything. Written, directed and co-starring Edward Burns, this romantic comedy explores the difficulty in choosing between one's duty and one's dreams. My Thoughts: "It's a slow burn semi romantic film. My problem with the film is that the acting just wasn't believable. The story wasn't convincing. I am sure there are people out there who have been in Johnny's position with a choice of starting a life he's a hundred percent not wanting at the moment and the choice to follow his dreams. But the film was overly done to the point of it being obvious. Plus by the time he sets out to the Hampton's with his Uncle Terry, you pretty much will figure out how the film will end. No surprises in this romance flick just like so many others like it."
♥˩ƳИИ ƜѲѲƉƧ♥
Super Reviewer
I love Ed Burns, and I love what he can do for a movie...his touch is really something special. Everyone has that person in their life that teaches them to be true to themselves, and this movie covers that subject well. A very touching, romantic film. I enjoyed it.
Cynthia S.
Super Reviewer
Nice Guy Johnny Quotes
There are no approved quotes yet for this movie.