Nicholas Nickleby
(2002)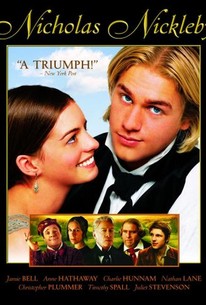 TOMATOMETER
AUDIENCE SCORE
Critic Consensus: Thanks to a strong cast of experienced actors and director Douglas McGrath's steady hand, Nicholas Nickleby is a worthy and respectful adaptation of the Dickens novel.
Movie Info
One of Charles Dickens' best-loved (and most complex) stories receives its fourth feature film adaptation in this lively historical comedy-drama. Nicholas Nickleby (Charlie Hunnam) is a 19-year-old who becomes the head of the family when his father dies unexpectedly. Keeping watch over his mother (Stella Gonet) and his sister Kate (Romola Garai) becomes an even greater challenge when Nicholas discovers that his father lost the family fortune due to ill-advised investments. Without a shilling to his name, Nicholas turns to his wealthy but unforgiving Uncle Ralph (Christopher Plummer) for help; Uncle Ralph offers to find work for all three, and Nicholas becomes a teacher at a school for unfortunate boys run by Wackford Squeers (Jim Broadbent) and his wife (Juliet Stevenson). Squeers and his wife are cruel and frequently violent toward their charges, and when Wackford, without cause, beats a weak and timid student, Smike (Jamie Bell), Nicholas decides he can take no more and runs away, with Smike in tow. The two young men fall in with a traveling theater troupe run by the genially eccentric Vincent Crummles (Nathan Lane) and his equally flamboyant spouse (Barry Humphries, aka Dame Edna Everage). In time Nicholas returns to London to check in on his sister and mother. To his horror, he learns that Uncle Ralph has promised Kate's hand to Sir Mulberry Hawk (Edward Fox), a wealthy older man with a less-than-wholesome interest in young women. Both Kate and Nicholas are upset at the prospect of this union, and Nicholas attempts to tear his family away from Uncle Ralph's control, beginning with a job working for the warm-hearted Charles Cheeryble (Timothy Spall) and his brother (Gerard Horan). Nicholas also falls in love with the fair Madeline (Anne Hathaway), but when Uncle Ralph learns of Nicholas' plot to foil Kate's impending marriage, he strikes back by kidnapping Smike and attempting to force Madeline to wed Sir Hawk. Actor, writer, and filmmaker Douglas McGrath adapted Nicholas Nickleby into a screenplay, as well as directing the picture. ~ Mark Deming, Rovi
Critic Reviews for Nicholas Nickleby
Audience Reviews for Nicholas Nickleby
Nicholas Nickelby was a film I was looking forward to watching since it has Charlie Hunnam in it (such a hottie). I love him in Sons of Anarchy. I haven't seen him in many movies though. I really loved him and Jamie Bell's performances. Their characters were the only interesting ones of the bunch. I think everyone did an amazing job in their parts. Well, besides Anne Hathaway. She was forgettable. To prove that point, I almost forgot she was in it until I saw her picture reminding me she was indeed part of the cast. The story really isn't what I was expecting. I'm not sure why I thought this was going to be a fun and silly period film. I ended up with quite the opposite of that. I didn't mind though. I did have a few laughs. It was all in the most inappropriate moments, which happens a lot. I got some annoyed glances but I can't help I'm a bit awkward with emotional crap, oh well. Smike's story is really sad and I think Bell did such a great job in the roll. The Squeers are awful people. I wanted to go through the screen and beat Mrs. Squeer with that spoon. The movie was a bit too long for my liking. I think it could have done without some scenes. Probably not something I would watch again, but not something I regret seeing.
♥˩ƳИИ ƜѲѲƉƧ♥
Super Reviewer
Charlie Hunnam shows great skills portraying Nicholas Nickleby. Having seen him in other roles with very diverse characters, this young man will be around the acting game as long as he wants. The story is somewhat predicable but adding Jamie Belle, Christopher Plummer, and Anne Hathaway in the mix and the story becomes a grand performance.
Thomas Johnston
Super Reviewer
A movie where honor wins. So seldom do you hear about integrity in today's world, and this was a movie about being true to yourself, believing in your values and the balance of cruelty and kindness. Great performances by all. Nicely done!
Cynthia S.
Super Reviewer